Among the many wonders of India, one of the most important is the wide variety of delectable sweets that are made with love and pure ghee.
With the festive season right around the corner, here are some types of delicious desi sweets from Rajbhog Foods, the best Indian sweet shop in town, that you must try.
Sweets are the pride and joy of Indian cuisine. Indian celebrations are incomplete without a big spread of authentic dishes and an array of Indian mithai.
Let's take a look at the different types of desi sweets for your festive celebrations that Rajbhog Foods has to offer: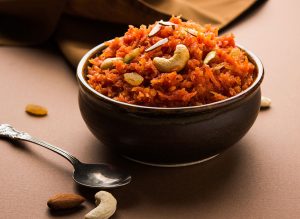 Halwa is a dense pudding-like Indian dessert topped with crushed or sliced nuts. It has a rich texture and a distinct sweet taste. Halwa can be made using different ingredients and is prepared in different styles all around India.
The main ingredients in Halwa, like milk, ghee, sugar, remain the same. Gajar Halwa and Dudhi Halwa are made from fresh vegetables while Sohan Halwa and Karachi Halwa are made from corn flour. Habsi Halwa is made from sprouted wheat flour and the Rajbhog Sweets special Dry Fruit Halwa is made from khoya. There is a Halwa for every occasion at Rajbhog Sweets!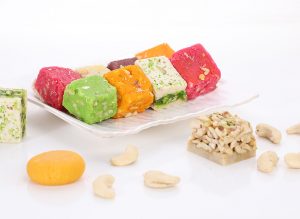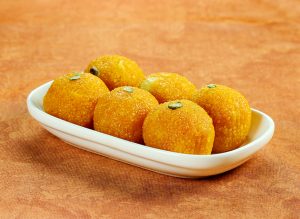 The round-shaped sweet balls, Ladoos, are a big part of religious celebrations. They are prepared as offerings to the almighty during Indian festivals. Every part of India has a different way of making the traditional Indian Ladoo.
Besan Ladoos are made in every Indian household during Diwali. Motichoor Ladoos are served during happy occasions. Bundi Ladoo and Kari Ladoo are bought for special occasions like pujas or religious ceremonies.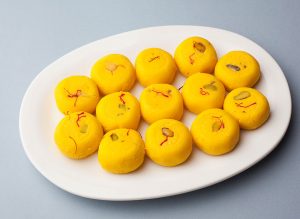 Peda is one of the most popular Indian sweets, which has its origins in the beautiful city of Mathura in Uttar Pradesh. They are flat, and round pieces of heavenly sweetness made mainly from khoya, sugar, and nuts that melt in your mouth.
Apart from the classic White Peda, Kesari Peda, and Mathura Peda, Rajbhog Sweets has various flavors like Kesari Kaju Peda, Badam Malai Peda, Stuffed Peda, and the most sought-after and unique Strawberry Malai Peda topped with shredded coconut. Indulge in these desi sweets this festive season.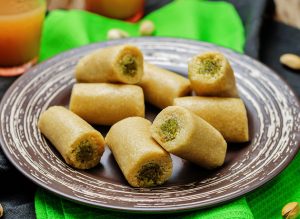 In any assorted plate of Indian desserts, you are sure to find these delicious, nutty rolls made from milk, sugar, and rich nuts.
You can find a wide variety of rolls at Rajbhog Sweets like Swiss Roll made from mix nuts and poppy seeds, Kaju Pista Roll made from cashews and pistachios, and Mohini Roll made from almonds and pistachios. There are also other varieties like Anjir Roll made from dried figs, Khajur Roll made from dates, and Nut Roll made from a combination of assorted nuts that will definitely satisfy your sweet tooth.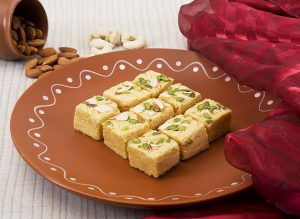 Patisa, popularly known as Soan Papdi, is an Indian dessert made from gram flour, milk, and ghee with various flavorings. Patisa is a great option for gifting during festivals and special occasions.
At Rajbhog Foods, we have the classic Patisa flavored with cardamom and Lacha Patisa, a round-shaped Patisa topped with a mix of rich nuts. You can get this special Rajbhog sweet online or in stores.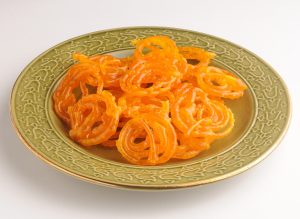 Who doesn't love the sugary spiral-shaped Jalebis? They are truly one of the most loved Indian desserts.
At Rajbhog Foods, we have the classic Yellow Jalebis and Orange Jalebis along with the special Amrati that everyone loves.
Apart from these amazing types of Indian sweets, you can also try the famous Gulab Jamun, Balushai, Monthal, and more. Pamper your sweet tooth with these desi sweets this festive season. If you are looking for an authentic Indian sweet shop in USA, Rajbhog Foods is the place to go. You can also place your Rajbhog Sweets order online to get the best Indian sweets in USA delivered to your doorstep.