What a wonderful feeling it is to munch on delectable snacks during tea time! Every sip from a hot cup of tea feels special when there are some crispy and crunchy paras to pop along. Read this blog to learn about some variants of Paras offered by Rajbhog Foods.
Snacking is an absolute favorite activity for everyone. Everybody loves to grab a quick bite or two and satisfy the taste buds and tummies. Indian cuisine offers a plethora of snacks, and there's a lot to choose from and people love paras more than anything when it comes to snacking.
Paras are a much-loved tea-time desi snack that Indians worldwide savor with utmost happiness! There are different kinds to choose from, and these crunchy baked snacks win hearts every time. Paras are baked crispy Indian wafers, so you can imagine the sound while you grab a bite of this delicious desi snack!
In this blog, we bring you the different types of Paras from the wide range of products of Rajbhog Foods.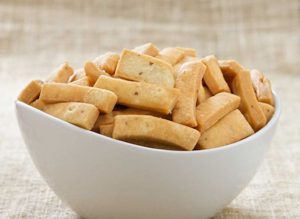 This crispy and crunchy desi snack is made with spiced flour sprinkled with a pinch of salt and then baked. Besides these main ingredients, Namak Para comprises the flavorful spices of cumin, carom seeds, and many more. It is a traditional Indian snack and is enjoyed by one and all because of the delicious and addictive taste and crunchiness. If you want to soothe your throat during the winters with a hot cup of ginger tea, then Namak Para is the snack that complements it the best.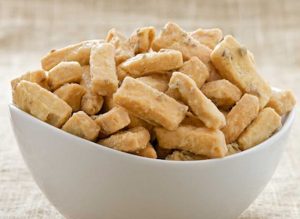 Another variant of Paras on a sweeter note is Gudpara. This yummy snack comes with a fine coating of jaggery and is baked until it turns crispy. The ones with a sweet tooth indulge in this desi snack regularly! Moreover, since jaggery is an essential ingredient of this snack, so you can imagine how good it is for health and especially during the winters! Gudpara is popularly used during festivals such as Diwali. People exchange boxes of Gurparas as gifts or serve it to guests in feasts.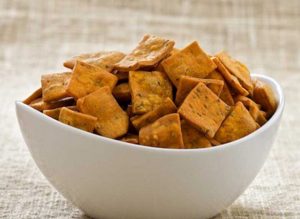 Any dish with an additional flavor of Methi wins hearts of Indians all around the world. Well, Methipara is one such snack that is flavorful at the most. Many different Indian spices are mixed with the flour dough. Then it is topped with that extra flavor-booster that are fenugreek leaves and baked. That's how Methiparas are prepared. This crunchy Indian tea time snack is famous for the punch of flavors it offers and people enjoy it a lot!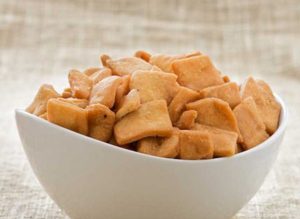 If you're not into Gur, you can pick our para with sugar, Sakarpara. Considered one of the best Indian snacks
for parties, Sakarpara is the snack that gets over in no time when served. It is made with highly minimal ingredients such as butter, sugar, and flour but the experience of sweetness is unparalleled. Every Indian household savors this sweet desi snack on almost every other occasion and savor it with utmost love. It is also popular during festive times.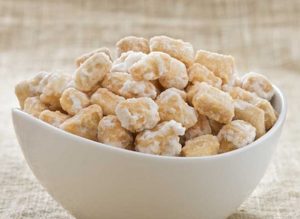 As its name suggests, Punjabi Sakarpara originates in the region of Punjab. This snack is made of flour, but initially, the flour is baked and given a form of crispy biscuits. Following that, these biscuits are coated well with sugar syrup. Finally, you can savor this delectable crunchy, and sweet snack. Indians exchange this sweet during weddings and special occasions.
Indians savor the above-mentioned Paras all around the world, and we, at Rajbhog Foods, have all of these readily available for you. You can order it right at your doorstep, and our seamless delivery services will make your products reach you on time. You can also grab a pack of some of these paras from a nearby grocery store or Rajbhog Café. So, rush today and get all these delicious Paras and stock them up!