An Indian meal is incomplete without the perfect Indian bread to complement the flavors of the curries. There are a variety of Indian breads, and they usually differ as per the flour used and the cooking method.
Read on to know more about the variety of Indian breads on must-try.
Indian breads are an integral part of every Indian meal. But, did you know that various types of Indian breads are available in the market? Yes, there's a wide range of Indian breads, the factors that differentiate them are the use of flour and the cooking method. Some add flavor to the meals, and some balance out the intricate taste of different dishes. But all of them complete an Indian meal and are used to scoop up the flavorful Indian curries, vegetables, or stews.
Let's talk about the different types of Indian breads and what goes best with them.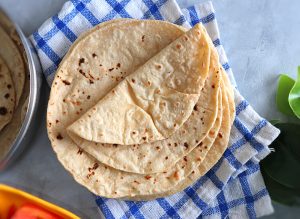 This Indian bread is closest to the hearts of most Indians. Tawa Roti is a simple and basic bread made with flour (usually wheat) and made on a disc-like flat pan. Some regions add salt and oil to it too. Its mild flavor and softness make it a staple in most regions of the country. Not just in India, but Tawa Roti has made its name across the world. The best part about Tawa Roti is that it can be paired with practically any curry, vegetable preparation, stews, and more. Moreover, it's an integral part of the Indian Thali as well.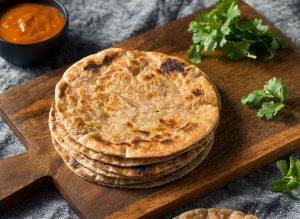 Just like Tawa Roti, Plain Paratha is the simplest and mildly-flavored version of parathas. It's a layered bread thicker than Indian roti, originating in the northern part of India. It's Indian comfort food that can be had at any time of the day. You can start your day with a plain paratha paired with tea or pickle and also have it for lunch with your choice of dishes.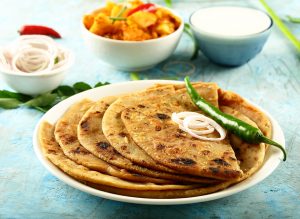 Let's talk about the spicier version of parathas. Masala Paratha is flavorful and delicious and can be had on its own. It's filled with Indian spices, layered to perfection, and cooked to bring the flavors of flours and spices together. You can pair it with some butter, or achar, or curd, or have it for breakfast with chai.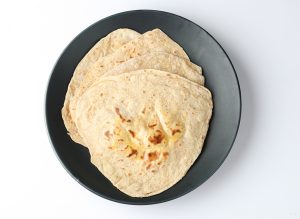 Gujarati Rotli is a traditional roti bread originating from Gujarat made with whole wheat flour. What's different about it? Its dough is rolled into small flat circles and then is roasted on an iron girdle or directly on the fire. Pair this Rotli with curries, dals, vegetable preparations, and Shrikhand of various flavors.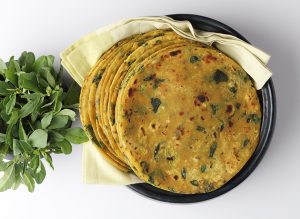 Methi Thepla is well-known across the world. It's a delicious and flavorful Gujarati flatbread filled with the goodness of fenugreek leaves and flour. The leaves are directly mixed into the flour while making the dough, and then the roti is cooked on a flat pan. Theplas are thin and crispy and can be had on their own without any curry or vegetable, which makes Theplas a good breakfast or snack option. Pair them with curd, ketchup, jam, or tea.
If you want to try Indian flatbreads, this is where you should start. We recommend you definitely try the breads mentioned above. All these flatbreads are available with Rajbhog Foods, freshly made in the USA. You can get them at our outlet, a Rajbhog Café around you, a grocery store around you, or on our website. All you need to do is get them, heat them and enjoy them with your choice of dish. You can pair them with Indian dishes from our frozen foods section or our achar from our pickle section. We hope you enjoy them!