If you're a cashew lover, then some specific snacks and sweets are your definite favorites! There are various benefits of cashew, and it has found its way into Indian cuisine as snacks and sweets that are the perfect addition to any celebration. Read this blog to learn about some of the Indian treats comprising cashews.
Indians worldwide enjoy cashew as a snack on almost every other occasion. There are various sweets that are also made with cashews and they are healthy and tasty at the same time! Cashews are also some of the best snacks to keep popping along with tea, coffee, or beverages. Some people consume cashews on a daily basis in various ways while they are not quite familiar with the benefits of cashew. The nutritional features of cashews are more than what meets the eye!
What are the benefits of cashew?
Cashews contain ample proteins, antioxidants, healthy fats, etc., and are known to be great for our bodies. The nutritional value of cashew is so high that it improves bone health, prevents blood-related diseases, protects our eyes, and keeps our skin healthy too. Moreover, they are an excellent source of dietary fiber.
In this blog, we bring you some delicious cashew delights that contain the benefits of cashew in them. So let's get right in!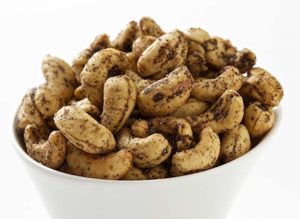 Black Pepper Cashew is one of the most flavorful variants of cashews. The burnt essence and the musky aroma of black pepper make it a snack to savor with utmost happiness. Cashews, as mentioned above, are best enjoyed by popping one after another as a satisfying snack. But, when the cashews are roasted with an addition of black pepper sprinkling, we get the delicious and flavorful Black Pepper Cashew. You can enjoy it with a hot cup of tea, and it is indeed delicious and healthy at the same time.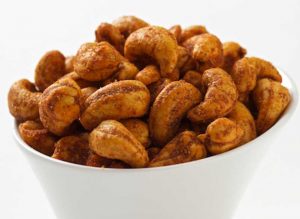 If you are someone who prefers spicy food, then check out Spicy Cashew from our range of products. Spicy Cashew is made with cashews that are roasted well and then sprinkled with assorted spices to make it all more flavorsome. You can also savor Spicy Cashew with tea, coffee, and other beverages.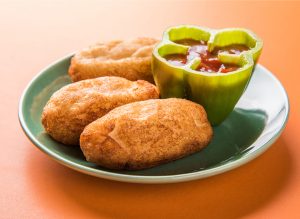 When you host a party, snacks are a must, and people often crave appetizers that are fried. But is it not a hassle to cook such dishes at home? You have to prepare the stuffing, then the coating, etc. It is all a fair chunk of procedure that you have to follow.
What if we tell you that you don't have to go through all that work anymore? Yes, you read it right! We have got you Cashew Roll, a mouthwatering appetizer in a ready-to-eat version. It is a delicious dish comprising cashews, potatoes, and other spices rolled together with bread crumbs. All you have to do is just buy this product and heat it up. It will be all set for you to serve your guests and watch them get on with it immediately!
We know of some of the dry or fried variants of cashew snacks. Now, let us read about some of the dishes in the sweeter segment!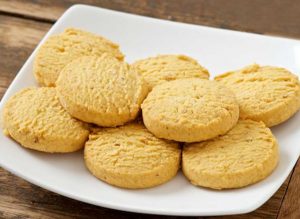 Cookies are absolute love for everyone starting from children to adults. These sweet treats often make everyone mesmerized and lost in the taste. Kaju Pista Cookies are one of those tasty and crunchy delights. A mixture of crushed cashews, pistachios, flour, butter, and sugar all work up to prepare this sweet treat. Moreover, once you put it in your mouth, it melts instantly, giving you the time and happiness to savor the sweetness. Kaju Pista Cookies are best suited to savor with a hot cup of tea or coffee.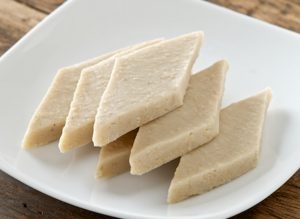 One of the very traditional Indian Mithai, Kaju Katli is a delightful treat that satisfies your sweet craving. They come in diamond shapes and have been an integral part of every other Indian celebration, either in the form of gifts or offerings. It is the most commonly savored Indian mithai during all sorts of special occasions.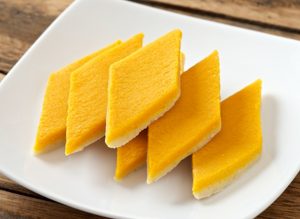 If you think Kaju Katli comes only in its natural flavor, then you need to check this out! We have a few variants of Kaju Katli, out of which the Mango Kaju Katli deserves special mention. As the name suggests, this delightful Indian sweet comes with the goodness of cashews and the addition of the very delectable flavor of the most favorite fruit for Indians, Mango! If you are looking for something exciting and flavorful to serve your guests as dessert, then Mango Kaju Katli is one of the finest choices you can go for!
The above-mentioned sweet and salty snacks comprise the nutritional benefits of cashew and the authentic taste of Indian cuisine. You can choose any or all of them and try them out as they will certainly leave you spellbound with the satisfaction of taste buds! These products are readily available to us.
If you want to grab a pack of these delicious cashew snacks and sweets, then you can head to a nearby grocery store or Rajbhog Café and get it. You can also order online from us, and it will reach your doorstep. So, get hold of these cashew specialties today and savor your way through great taste and good health!