Comfort food is like a warm hug from a loved one. Nostalgia and familiar flavors bring a special touch of love, especially during tough days. Moreover, Indian food has an innately special quality that makes anyone feel at home. Let's take you through some wholesome Indian meals from Rajbhog Foods.
Everyone has their version of comfort food. Indian cuisine is a wholesome delight, made with authentic spices and delicious flavors that comfort the body and mind.
Indian food can be a source of comfort here in the USA, and we are here to provide it to you. The delicious desi delicacies on the Rajbhog Menu will remind you of food from back home. Just like homemade food, our food is always fresh, delicious, and oh, so satisfying!
Let's take a look at homestyle food from the Rajbhog Menu that you will surely love: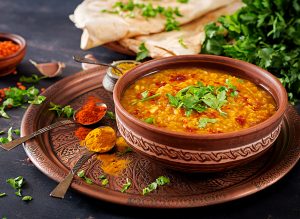 Dal is one of the main dishes in a typical Indian thali. It is a soup-like preparation of boiled lentils and vegetables spiced with authentic Indian spices. It goes best with steaming hot rice and a side of pickled vegetables. Various preparations of Dal are popular across India.
Chutti Dal is a plain soup of boiled lentils with a pinch of turmeric and a sprinkle of salt. A slightly spicy version of it is Lachko Dal or Choti Dal.
Furthermore, Dal Makhani is another version of dal with a rich, creamy texture and a hint of herbs and spices.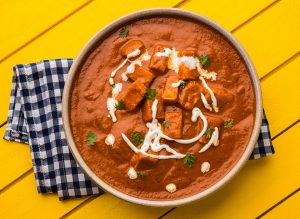 Paneer or cottage cheese is the king of Indian vegetarian cuisine. Paneer Makhani is a staple when it comes to Punjabi food. It is a delicious, creamy sauce with cubes of cottage cheese simmered in it.
Paneer Makhani and freshly-baked Naans are the best desi combo. It is usually a part of the famous Indian thali.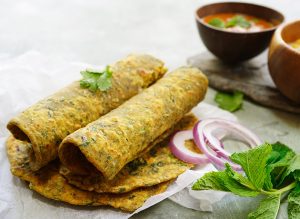 Theplas are the pride and joy of Gujarat. It is a traditional gram four flatbread filled with herbs and spices. Namely, Methi Thepla has added fenugreek leaves that give it an extra boost of flavors.
Methi Thepla, the best Indian comfort food, can be devoured with curd or pickle. It is a great dish to have on the go.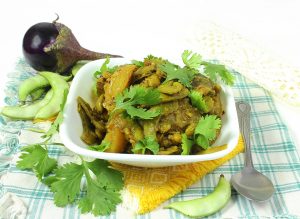 Surti Udhiyu, a traditional Gujarati dish, is a vegetarian's paradise. To illustrate, it is a delicious medley of assorted vegetables cooked with special Gujarati spices.
People relish it with fresh Rotis or hot Puris. The winter dish Surti Undhiyu is special occasions like festivals and weddings.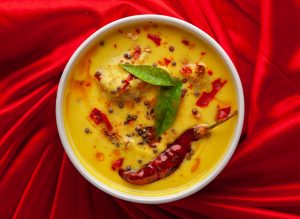 Kadi Pakoda is a popular Punjabi dish. It is a creamy yogurt-based curry seasoned with traditional spices and with deep-fried onion fritters soaked in it. Kadi Pakoda served with a hot bowl of steamed rice, is the ultimate comfort food. It has just the right amount of spice and creaminess to satisfy your Indian food cravings.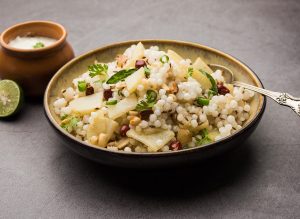 If you are craving some homestyle food, Sabudana Khichdi is the dish for you. The main ingredients used to make Sabudana Khichdi are soaked tapioca balls and potatoes seasoned with traditional spices.
It tastes best with some curd on the side. In addition, Sabudana Khichdi is popular during the fasting season. Other than that, it is a popular breakfast dish.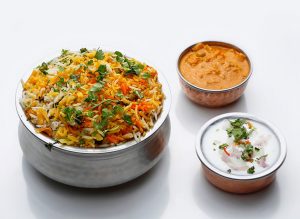 Biryani is the most popular Indian delicacy, and for all the right reasons. Vegetable Biryani, a Rajbhog Foods specialty, is a delightful preparation of slow-cooked rice with sauteed vegetables topped with fried cashews.
This biryani will instantly transport you to your homeland. It tastes best with a side of raita.
If you are looking for Indian snacks made in USA, here are some Indian comfort snacks that will take you on a trip down memory lane: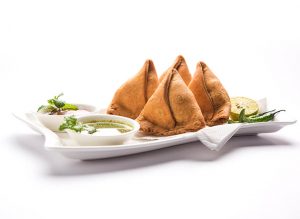 Samosa
India is known for its tasty street food. Samosa is the most popular of them all. If you love samosas, you will surely love frozen Potatoes and Peas Samosa from Rajbhog Foods.
It has a perfect mashed potato mixture on the inside and a crispy coating on the outside. You can heat it in seconds and enjoy it with some fresh chutney.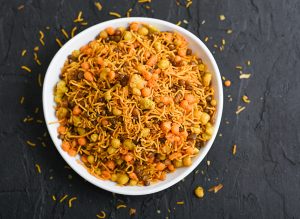 Bombay Mix is a tangy, spicy, sweet, and salty mix of Indian sev, peanuts, fried peas, and more seasoned with traditional Indian spices. It is a trail mix with an explosion of exotic flavors.
This snack is reminiscent of the authentic flavors of India. You can enjoy it with your evening Masala Tea.
Homemade food can uplift your mood almost instantly. If you are a big fan of homestyle food in the USA, Rajbhog Foods is your go-to destination. You can find all types of Indian food on our easy-to-navigate website or at your nearest Indian grocery store.