Winter brings with it the much-awaited Holiday season! It is that time of the year when you can't help but indulge in some flavorful and delicious food. But when it comes to food, sweets and desserts are significant inclusions to the meals. Read this blog to know about some of the most authentic Indian sweets that Rajbhog Foods offers!
The arrival of winter means it is the time to enjoy the utmost coziness in the comfort of your home by staying curled up under woolen clothes and blankets. During winter, the desire to enjoy warm foods rises as the temperature drops.
The Holiday season is when you make fond memories with your loved ones by enjoying warm and tasty dishes to heat yourself in the nippy weather. But nothing compares to the feeling of relishing some traditional Indian sweets and desserts that are flavorful and heavenly and give us all the warmth we need to avoid the biting cold winds.
There are numerous Indian sweets and dessert treats that are enjoyed in almost every Indian household, and we assure you that these delightful treats are nothing less than lovely to indulge in during the winter holidays.
In this blog, we bring some authentic Indian sweets and desserts that Rajbhog Foods brings you, which you can relish with your friends, family, and loved ones with utmost happiness to beat the season's chills.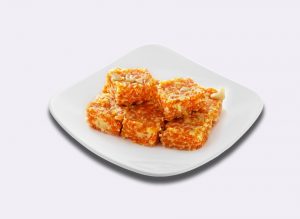 One of the most traditional Indian desserts, Gajar Halwa, is just the perfect dish to indulge in during winter. There are several reasons why people are so much in love with this delicacy. It is flavorful and delicious, but most importantly, it comprises the goodness of milk, ghee, and mawa. This delightful delicacy helps keep us warm during the winter. Additionally, the flavors and taste of Gajar Halwa seem best when you relish it during this cold season.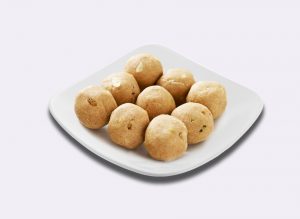 A sweet with the goodness of nuts such as almonds and pistachios, milk solids, butter, ghee, etc., Punjabi Pinni is a wonder among the winter special Indian sweets. It has a unique nutty flavor, evident due to its contents. It is a sweet that helps keep us warm during the chilly weather, and its beneficial factors help keep our immune systems good enough to avoid diseases.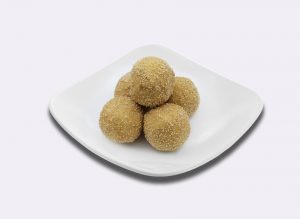 Ladoo – The King of Indian Sweets, comes in various forms and preparations. This authentic Indian sweet is loved by one and all, and there's precisely no festival or celebration that can go on without a generous serving of the delicious Ladoos.
Rajbhog Foods brings you the utterly flavorful Churma Ladoo, which is filled with beneficial factors that not only help us with warmth during the winter but its ingredients also keep us in the pink of our heart and health. It boasts rich flavors of pistachios and poppy seeds, and the best feature is that it is prepared with a blend of flour, ghee, and sugar. So you can already imagine how this sweet is packed to the brim in terms of taste and benefits.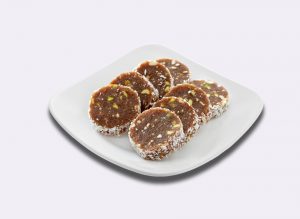 Winter is a wonderful time to indulge in dates or Khajur because it is a source of excessive proteins and vitamins and regulates our health significantly. We at Rajbhog Foods wish for you not to miss out on the opportunity to enjoy some good Khajur this season, and that's why we offer you the utterly lip-smacking Khajur Roll in our range of authentic Indian sweets.
Our Khajur Rolls are no less than heavenly when it comes to their taste and flavorful contents. If you're curious, these Khajur Rolls boast a delectable combination of dates, cashews, a variety of nuts, and, last but not least, shredded coconuts. So you can get all the warmth and happiness you seek during this season by relishing these delicious Khajur Rolls with your friends or loved ones.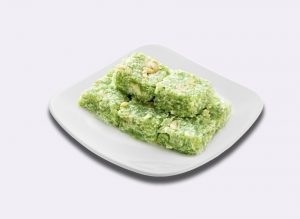 Dudhi Halwa is one of the most-preferred sweets amongst numerous other Indian desserts and sweets made with milk. Comprising milk solids, butter, cashews, tree nuts, and bottled guard, Rajbhog Foods brings it to you in its most authentic and tastiest version that you can ever imagine. So this sweet delight is worth a try, especially during winter, to enjoy its natural taste and lose yourself in a world of flavorful goodness.
The above-mentioned Indian sweets are a few of the several other sweets that Rajbhog Foods offers. You can check out more of them in our blog Rajbhog Sweets You Must Try – Part 2. You can get these fabulous winter sweet treats from a nearby Rajbhog Café or grocery store. Check our website for all the authentic Indian mithai and desserts we offer, and you can also place your orders online. Happy Holidays!