One of the main attractions of Indian cuisine is the abundance of sweets it offers. They are closely associated with Indian roots, and they represent the Indian culture and traditions. Therefore sweets are the best Indian desserts on any given day. Read this blog to learn about some of the authentic Indian sweets from Rajbhog Foods that you must try!
Sweets are close to the hearts of Indians worldwide, and they are considered to be the best Indian desserts during any celebration. They play a significant role during special occasions and festivals. Many different sweets are offered as prayers or served to relish as desserts at every Indian event.
The variety of sweets in Indian cuisine makes us confused as to which ones to choose, and Rajbhog Foods takes it to the next level with a wide range of available options. If you've read the previous blog about 10 Must-Try Rajbhog Sweets, then you sure do have an idea about the variance of choices that spoil you.
Keep scrolling and read this blog to learn about some more sweets from Rajbhog Foods, which serve as the best Indian desserts!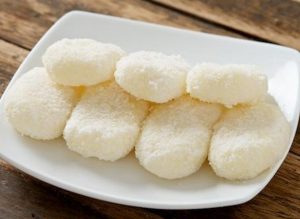 Cham Cham is a sweet that originates from Bengal. It is made of cheese and is one of the desi sweets that comes in a few different colors.
As bright and vibrant as it looks, Cham Cham tastes pretty delicious, and people love it from the very first bite. We have this mouthwatering sweet available in different options: White Cham Cham, Orange Cham Cham, Pink Cham Cham, and Yellow Cham Cham.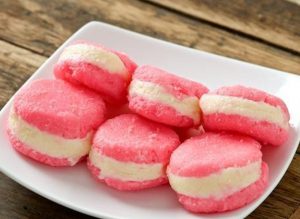 When cheese and milk solids come together, the result is an explosion of flavors in our taste buds. Chandrakala is one such traditional Indian sweet, and it comes with the goodness of these two ingredients.
The delectable taste of Chandrakala makes it vanish within minutes of serving it to your guests. We have two very beautiful-looking and tasty variants: Yellow Chandrakala and Pink Chandrakala.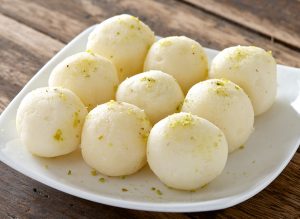 On every little occasion ranging from somebody passing in exams, or somebody's birthday, wedding, etc., Rasgula is always present as a celebration starter in almost every Indian household. It is one of the most famous Bengali sweet and is a significant part of the Indian tradition.
We make Rasgulas with homemade cheese and soak them into a sugar syrup. The juices that ooze out with every bite are nothing short of heavenly when one grabs a taste of this delicious sweet.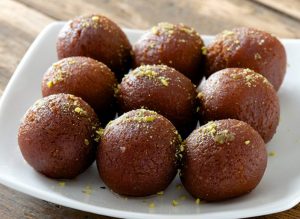 Kala Jamun is made of fried balls of milk solids and then soaked in sugar syrup. It is one of the tastiest sweets with a dark brown color that gets a shiny texture once.
It tastes as good as it looks and is a favorite of almost every other sweet lover.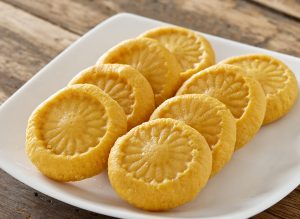 Kesari Peda is an incredible creamy milk fudge. The taste comprises various flavors as this sweet is topped with pistachios, saffron, sugar, etc. It is one of the best Indian desserts for occasions and gifting purposes.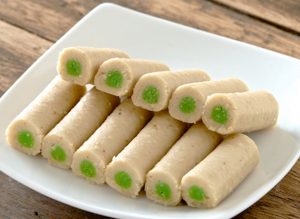 If you're a lover of cashews and sweets, then Kaju Pista Roll is the best choice you can make. This delectable Indian sweet comes in the form and shape of a cylindrical roll and equally contains the goodness and benefits of cashews and pistachios. The filling is mesmerizing, and every bite will make you feel heavenly.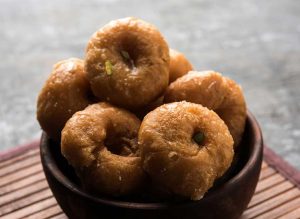 A heavy sweet dish with a combination of wheat flour and nuts, Balushai is one such traditional Indian dessert that resembles the looks of a glazed doughnut. It tastes different due to its contents, but it is one of the most fulfilling and best Indian desserts that you can relish after a sumptuous meal.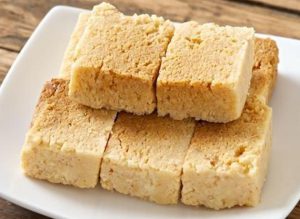 Burfis are a favorite of almost every Indian around the world and they have a few different varieties. But if you seek the flavor of milk, you should choose the very delicious Milk Cake Burfi. Serve it to your guests and watch as they enjoy every bite of this tasty and one of the best Indian desserts.
The above-mentioned sweets serve as some of the best Indian desserts, and you must also be excited to try them all. But are you wondering where to get authentic Indian sweets in the USA? Don't you worry! Rajbhog Foods brings you all the options of authentic Indian sweets that you will probably not get in any other Indian sweet shop.
To get these, all you need to do is visit a nearby Rajbhog Café or grocery store. You can also order online from our website and get your favorite sweets delivered to your doorstep.