Father's Day 2021 is tiptoeing around the corner, and here are some delicious gift ideas you can use to bring a smile to your dad's face. Read more to find out.
Dad brings the world to you and pushes every limit to bring a smile to your face. This Father's Day, show your gratitude for his fatherhood and never-ending love with a box of delicious Indian Mithai.
Whether your dad is a fan of sweets or not, he will surely love our range of Indian desserts. Here are some of our classics you can choose from and make a Celebration Hamper for your dad.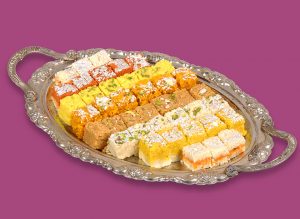 Burfis
Burfis are Indian milk sweets traditionally made and consumed in India during festivals. Ever since its inception, burfi has had many variations. These variations came to life depending on the availability of other ingredients like fruits and nuts. In addition to seasonal fruits and nuts, burfis were also fused with global ingredients like chocolate.
If your dad likes small, soft treats that are loaded with flavor and crunch, then you must try our Besan Burfi, Badam Burfi, and Coconut Burfi. If he likes mangoes, you must gift him a box of our Mango Burfi. In addition to the classics, we also have some fusion burfis like Chocolate Burfi, Pista Mava Burfi, Three Color Burfi, and more.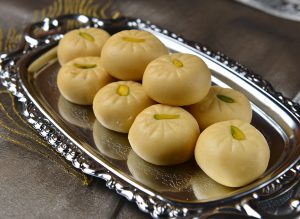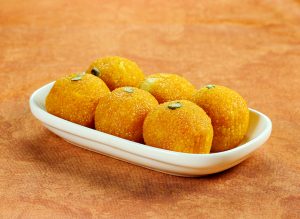 Ladoos
Ladoos are the most devoured Indian sweet dishes across the globe. No Indian gathering or celebration is complete without a big plate of ladoos.
This Father's Day, surprise your dad with a box of classics like Besan Ladoo, Motichoor Ladoo, Kari Ladoo, and Bundi Ladoo.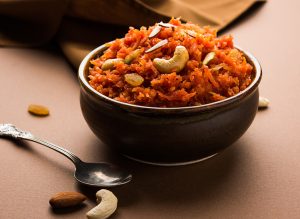 Halwa
Halwa is an Indian porridge sometimes made with flour, dried fruits, fresh veggies, and always loaded with ghee. Everything about halwa is pleasing, which makes it one of the best father's day desserts.
So, wait no more and choose from our Dry Fruit Halwa, Gajar Halwa, and Dudhi Halwa for your dad today.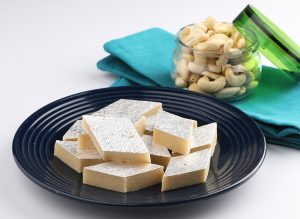 Cashew Mithai
Everyone loves our cashew-based Indian mithai. If you want to treat your dad to a rich and creamy sweet, you must choose from our range of cashew mithai. You can please his sweet tooth with the classic Kaju Katlis.
Also, you can treat him to some fusion sweets like our Mango Kaju Katli, Nut Roll, and Kaju Pista Roll.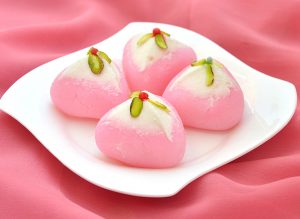 Rajbhog Foods Specialities
Treat your dad to our special range of impressive desserts. They are traditionally famous sweets. Moreover, the recipes used to prepare them are passed down from generation to generation.
Therefore, the authenticity and rarity of these dishes make them special. Treat your dad to a bite of nostalgia with our special mithai like Pista Ghari, Balushai, Dilbahar, and Agra Petha.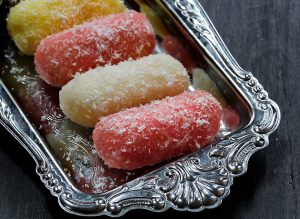 Bengali Sweets
When you hear the words 'Bengali Sweets', the only thing that comes to mind is Rasgullas, isn't it?
Well, there's so much more to Bengali sweets than just Rasgullas. So, this Father's Day, you can try our Bengal Sweets like Sandesh, Cham Cham, and Rasmalai with your dad and enjoy a day full of sweet moments.
We hope this list comes in handy when you plan a Father's Day surprise for your dad. Moreover, we also hope that our celebration sweets add sweetness to your day. Because, at Rajbhog Foods, we make sweets keeping in mind the emotion in every occasion. This makes us the number one mithai brand across the country.
Happy Father's Day to your Dad from all of us at Rajbhog Foods.