You will never run out of options if you're planning to get Bengali sweets for your next festive celebration. But which mithai should you pick from such a delightful variety?
Read this blog to get a few options!
Indians are spoiled with choices when it comes to food. Whether it's spicy, sour, nutty, earthy, savory, rich, or any other flavor that you're looking for, you will always find an Indian dish that fits your choice. One of these flavor profiles that India is famous for is sweets.
Indian cuisine has the broadest range of sweet dishes you can find anywhere in the world. They come in various flavors and are made with some of the unique combinations of ingredients you can ever think of.
But if you wish to dig deeper to find the Indian hub for sweets, it has to be Bengal. Bengali sweets are some of the most loved mithais around the world. The rich and heavenly sweet dishes are also easily available everywhere. But with such a great variety at your disposal, it may become difficult for you to choose which to pick during your next visit to Rajbhog Café.
That's what we're here to help you with. Being the first blog of this series, we will talk about some of the most famous Bengali sweets that are must-haves this festive season. So, buckle up and get ready for a ride to happiness town as we take you on tour through the mithai shops of Bengal.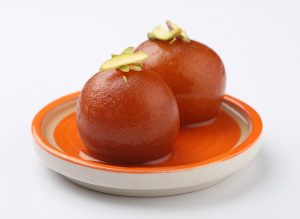 You can't talk about Bengali sweets without mentioning Gulab Jamun at least once. It's one of the two most famous mithai to originate from the mishti state. So much so that it's a part of the common diet in Bengali cuisine. It's also widely had during Indian festivals.
The best way we can describe this heavenly sweet is that it's a sweet ball of dough that's fried and dipped in sugary syrup with a hint of cardamom. While traditionally it's had on its own, you can try making some fusion dishes like Gulab Jamun and Rabdi, Gulab Jamun and Ice Cream, and a western creation called Gulab Jamun Cheesecake. You will also find Gulab Jamun with Coconut easily in one of our desi sweet shops.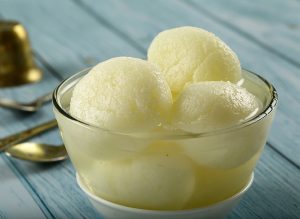 This is the second most talked about Bengali sweets in the world. It's a lot lighter than Gulab Jamun but is equally as delicious. Rasgula is also frequently enjoyed by the sweet people of Bengal. It's also a great mithai to share during a festive Indian celebration.
Rasgula is like a fluffy cheese ball that is soaked in sugary syrup. While you can just gobble one of it easily, you can also serve it as a custard, in a pudding, or soaked in rabdi to make Rasmalai.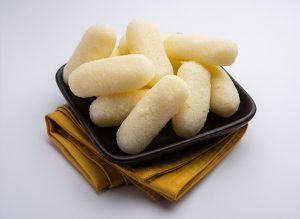 Cham Cham is an amazing mithai that gets everyone excited. The interesting concoction of the soft exterior and the crunchy center is something you should definitely try. Since it's a dry sweet, you can have it on-the-go and also serve it as a prasad during Hindu festivals.
These soft and nutty treats come in a variety of colors. You can have White Cham Cham, Yellow Cham Cham, Pink Cham Cham, and also Orange Cham Cham. We can assure you that once you present it, every single piece of Cham Cham will vanish within a matter of seconds.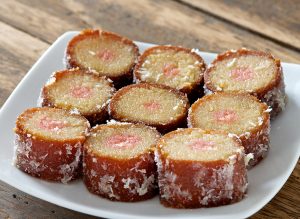 Sweet Cutlet is a great option to serve as an Indian dessert after savoring some mouth-watering food. Every bite of this divine mithai will only leave back happy memories. While it's not as famous as the sweet dishes mentioned above, it's still a hidden gem that you should definitely give a try.
You will be able to taste the soft and creamy goodness of this delightful mithai with every bite you take. Its rich and sublime flavor makes it the perfect Bengali dessert to have after an amazing festive feast with your family!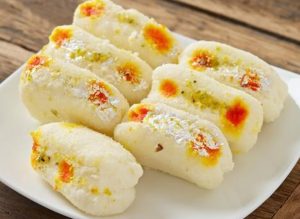 Maharaja Bengali Sweet is a special mithai that you can serve during grand festive celebrations. We're sure all your loved ones would be grateful that you served this mishti Bengali delight during such a happy occasion.
Out of all the Bengali sweets that we have mentioned so far, this has to be the most festive option you can choose. Every bite of Maharaja Bengali sweet will give you a cheesy, milky, and nutty flavor. It's like an explosion of flavors that goes well with the grand festive celebrations.
Until Next Time…
We sincerely hope that we were able to trigger your imagination and get your mouth watering. If you're looking to get your hands on these treats for your festive celebrations, then we can help you with that. To order these wonderful Indian sweets online, you can simply browse through our sweets section and add them to your cart. But if you're looking to venture out to get them, then you can visit your nearest Rajbhog Café and grab them right away. We hope you have a fantastic and sweet festive season ahead! Stay tuned for more blogs about Bengali mithai!