The Hindu festival of Ganesh Chaturthi is right around the corner. Are you ready to welcome Lord Ganesha home with an array of traditional sweets from Rajbhog Foods?
You can get the most authentic Indian sweets in USA delivered to your doorstep. Let's explore all the delicious mithai options from Rajbhog Foods for this festive season.
On the auspicious day of Ganesh Chaturthi, clean and decorate their homes and bring home beautiful Ganesh clay idols with chants of "Ganpati Bappa Morya!" A Ganesh puja is performed and a bhog (an offering to God) of mouth-watering food and sweets is offered to Lord Ganesha.
People gather for community aartis and serve prasad of delicious Indian sweets and Indian desserts.
Here are different types of sweets that you can serve as prasad this Ganesh Chaturthi: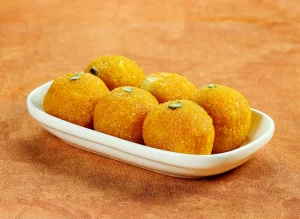 Grace the occasion with Bappa's favorite ladoos. You can find a wide variety of this most loved Indian sweet. Bundi Ladoo and Kari Ladoo make for a nice offering to Ganpati Bappa while Besan Ladoo and Motichoor Ladoo are great options for prasad.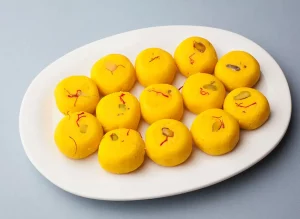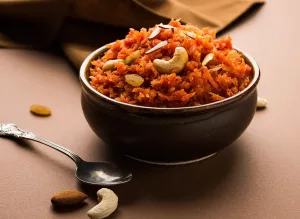 Who can resist the extra sweet and incredibly delicious Indian Halwa? Get into the festive spirit of Ganesh Chaturthi with the Rajbhog special Gajar Halwa and Dudhi. You can also choose from our other varieties of Halwa like Dry Fruit Halwa, Sohan Halwa, Walnut Halwa, and more.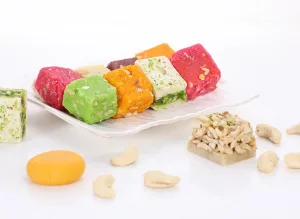 Burfi, the ultimate Indian milk pudding, is truly a festive favorite. It is prepared in different styles in different parts of India but has one ingredient in common, pure desi ghee. Make your Ganpati festival celebrations extra special with Badam Burfi, Besan Burfi, Coconut Burfi, Chocolate Burfi, and many more.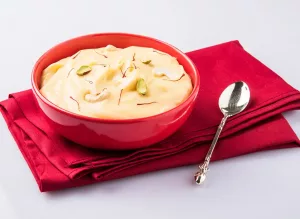 Special Indian sweets –
Treat your family to a selection of special Indian desserts this Ganesh Chaturthi. Try out our specialties like the cashew-based Kaju Katli, the Indian donut, Balushai, the delicious Swiss Roll and Nut Roll, the healthy and tasty Punjabi Pinni, and the pearl-like Sweet Boondi.
Make Ganesh Chaturthi 2021 a memorable one with grand celebrations and delicious Indian sweet desserts from Rajbhog Foods. You can also get a big Celebration Hamper of our choicest traditional Indian sweets for the festive season.
Rajbhog Foods is the go-to sweet shop for any Indian celebration. You can buy Indian sweets online at www.rajbhog.com and get your Rajbhog online order delivered to you wherever you are.
Wishing you and your family a Happy Ganesh Chaturthi!