Indians across the globe relish Indian bread as a significant part of their staple diet. Most commonly, we see Indian bread being had alongside another dish. But do you know that other than using it with some accompaniment, there are some dishes which you can make just with Indian bread?
Read this blog to learn about some of those dishes!
The Indian cuisine boasts dishes of various flavors, and primarily people relish them with Indian bread like rotis, parathas, etc. The different types of bread available in Indian cuisine leave us spoilt for choice as each has a different flavor and taste.
Apart from pairing Indian bread with other dishes, we can also make some tasty delicacies with them with the help of some easy recipes to make at home. If you're having some roti or parathas as leftover food from a previous night's feast, or some ready-to-eat Indian bread that you wish to utilize, there are some tasty meals or snacks you can easily make with them.
So if you're also excited to find out about the tasty dishes you can make with Indian bread, keep on reading!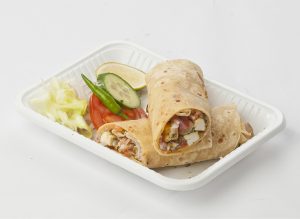 1) Kathi Roll:
If we begin with an easy food to make out of chapatis, then Kathi Roll should top the list. Kathi Roll does not involve much of a hassle for cooking. You can use some leftover veggies as filling, and even if you don't have any leftover, you can add a combination of your choice. Something like onions, paneer, and other veggies will work just fine as the stuffing. Top them with some mint chutney or mayonnaise, and the next step is to relish this tasty delicacy.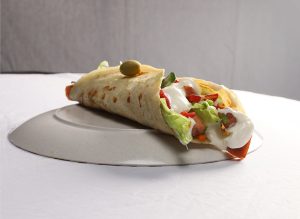 2) Roti Tacos:
Are you fond of Tacos? If so, then, before dialing up your favorite restaurant for delivery, how about trying to make Indian Tacos at home by yourself? Yes, you read that right! You can make Tacos right at home with the help of Indian chapati as a base. Choose your favorite veggies, sauces, and cheese for the filling and add them to the chapati after a brush of butter. If you think that the exact half-moon shape of tacos will satisfy you, then all you need to do is fold the chapati from either side with the filling in between. The next step will be to put your homemade tacos in the oven for a duration of three to four minutes at a range of 180-200 degrees Fahrenheit. Enjoy your Tacos with some of your favorite dips.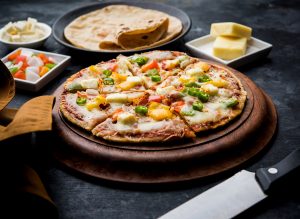 3) Chapati Pizza:
The craving for pizza is hard to resist, and often we tend to get it from our favorite pizza joint. But did you know you can make the pizza right at the comfort of your house with some chapatis? You need to make sure that the chapati is thick by structure so that a thinner one doesn't spill. Even if your chapati is thin, make sure that you add enough layers to thicken it for a strong base. Place the chapati and spread sauces of your choice to your heart's content. You can use sauces like tomato ketchup, mayonnaise, pizza sauce, chipotle, and several other spreads. Now that your base is ready top it up with your favorite veggies such as capsicum, onions, corn, tomatoes, etc. Then, grate some cheese and sprinkle some oregano. Place the chapati pizza on a greased pan, cover the lid and let it rest in low flame for about three to four minutes. Once the cheese melts, you are done, and your chapati pizza is ready to be relished.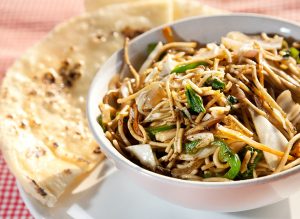 4) Roti Noodles:
Noodles are a favorite of many, and most of the time, we use maida noodles to satisfy our craving. But how about we ditch mainstream maida noodles and try out something new such as Roti Noodles? You should know that Roti Noodles serve as a healthy dish.
All you have to do is cut the chapatis into slim and long strips. Add your favorite vegetables to a heated pan and saute them finely. Top it all with some soya sauce and red chili sauce for a spicy taste. Once you add salt and pepper as per taste, toss all of it together well enough and add the roti noodles. Mix them gently just as much as is needed so that you don't have to encounter the roti noodles breaking off. Serve hot and enjoy this mouthwatering delicacy.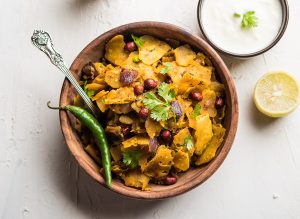 5) Chapati Poha:
Poha for breakfast is one of the most-admired dishes by Indians worldwide. There is a uniqueness about the taste of Poha, but that's what we are here to breakthrough. How about we try something new other than the usual taste of Poha that we all enjoy. Let us bring in a twist with chapatis?
To make Chapati Poha, all you have to do is primarily prepare a tadka as per your choice by heating some oil in a pan. Add mustard seeds, garam masala, turmeric, onions, amchur powder, and some of your favorite veggies. Let them cook while you chop the chapatis into small pieces and add them to the pan. Now you have to mix it all up well enough. Serve it hot with coriander or lime juice. It will taste better when the rotis are soft, so make sure of brushing them with some butter from time to time.
The above-mentioned dishes are delicious, and you're also probably excited to try these out by yourself. In that case, you can check out our products. Other than just Tawa Roti, we have other Indian bread options for you, such as Methi Thepla, Masala Paratha, Plain Paratha, and Gujarati Rotli. You can choose any of your favorite Indian bread.