Eid al-Adha is the Festival of Sacrifice. It is a sacred festival celebrated by Muslims all around the world. People dress up in colorful clothes, prepare traditional delicacies, exchange gifts, and rejoice with family and friends.
Let's take a look at some delicious dishes from Rajbhog Foods that you can add to your Eid menu.
Eid al-Adha is an important day for Muslims everywhere. On this day, it is said that Allah was so pleased with Ibrahim being ready to sacrifice his son Ismail that he sent a lamb there at the right moment.
This festival also marks the commencement of the Hajj pilgrimage near Mecca.
Traditionally, this special day begins with a prayer or Salat at the crack of dawn, after which the festivities, feasts, and merriment continue.
You can plan your Eid al-Adha menu from the vegetarian delicacies below. Let's start off with some tasty appetizers: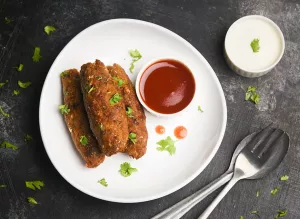 Kababs and Eid go hand-in-hand. Kick start your Eid celebrations with this special Vegetable Kabab grilled to absolute perfection. Serve it with a dollop of fresh mint chutney for a delicious experience. All you have to do is unpack and grill.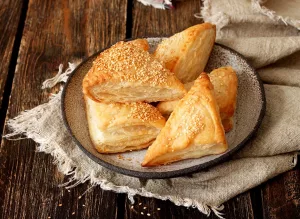 You can begin celebrating Eid with this unique appetizer. This Vegetable Puff Pastry is a baked puff stuffed with fresh veggies cooked in authentic Indian spices. You can serve it straight out of the pack with a side of ketchup or mayonnaise.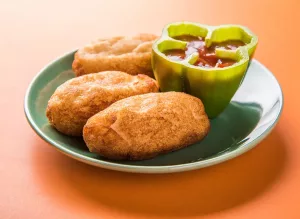 Cashew Roll is a special preparation of cashews and potatoes spiced with authentic Indian spices and fried to golden perfection. It is a wonderful appetizer to include in your Eid menu. Your guests will surely enjoy the amazing flavors of our Cashew Roll.
Moving on to the main course, you can include these wholesome dishes in your special Eid feast: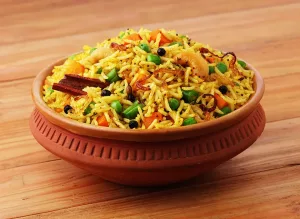 Eid is incomplete without Biryani. Biryani is a special rice preparation that has its origins in Persian and Arabic cultures. Vegetable Biryani is a combination of spiced, sautéed vegetables and aromatic Biryani rice. You can enjoy this Eid staple from Rajbhog Foods without having to actually cook it.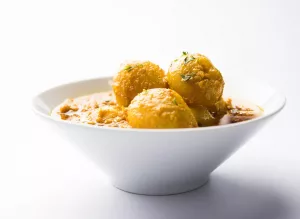 Dum Aloo is a scrumptious curry made from boiled baby potatoes and authentic desi spices. Its rich texture and incredibly satisfying flavors will remind you of home. All you have to do is unpack and heat. You can serve it with Naan, Rotis, or steamed rice to enrich your Eid dinner.
Now let's dive into some tempting desserts to add to your Eid menu: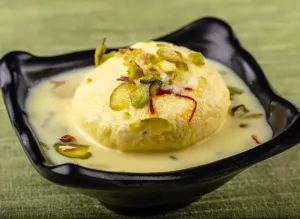 Our Signature Rasmalai is one of the most sought-after Indian desserts. It is made of cheesy dumplings served in rich, creamy, thickened, and sweetened milk. You can store our Rasmalai in the refrigerator and serve it cold after your lavish Eid feast.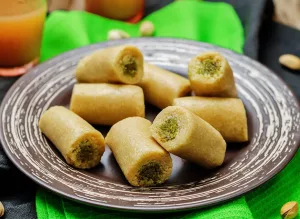 Our Swiss Roll is a delicious combination of chopped nuts and poppy seeds rolled into a sweet dough. These bite-sized sweets are perfect as a welcome dish for your guests. Serve them on a platter straight from the packet for your family and friends on Eid day.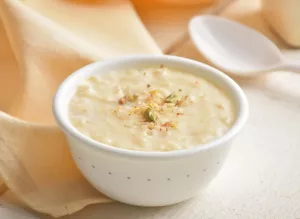 A delicious dessert option is the world-famous traditional Indian rice pudding, Kheer. It complements the unique flavors of Indian cuisine very well. You can pop our ready-to-eat Kheer in the refrigerator and serve it cool.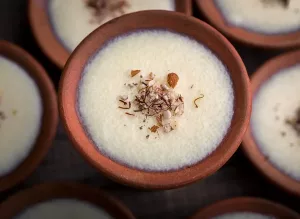 Fernee is also a kind of rice pudding with a touch of saffron that makes it special. This Eid, you don't have to make Fernee from scratch. The flavors of our authentic Fernee will bring you the warmth of Eid from back home. Just pour it out from the box and serve it hot or cold.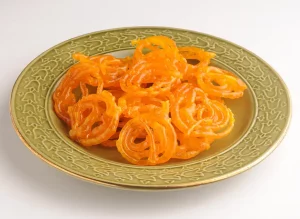 Who doesn't love these sugary spiral wonders! Jalebis are traditional fried pretzels made from plain flour dough and soaked in dense sugar syrup. There are different types of Jalebis like Yellow Jalebi and Orange Jalebi with the added richness of saffron. Our ready-to-serve Jalebis will add a touch of tradition to your Eid celebrations.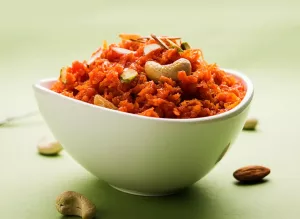 Gajar Halwa, the traditional sweet dish that is loved by all. It is a pudding-like dessert made from fresh carrots and sweetened milk. It is usually topped with assorted dried fruits and nuts. You can serve our Gajar Halwa hot or cold from the ready-to-eat box as per your preference.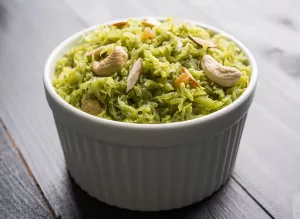 Similar to Gajar Halwa, Dudhi Halwa is a delicious dessert made from bottle gourd instead of carrots. Dudhi Halwa is loved by kids and adults alike. Serve it directly from the box, fresh and quick!
Good food brings people together. These traditional dishes are the essence of any cultural celebration. Now you can celebrate Eid the traditional way without having to cook everything at home.
Make your Eid al-Adha 2021 a memorable one with a large spread, readymade for you from Rajbhog Foods. Celebrate the Festival of Sacrifice with snacks, appetizers, main dishes, and desserts from the Rajbhog Menu. You can shop for incredible desi dishes on our website www.rajbhog.com or visit a Rajbhog Cafe near you to enjoy authentic Indian cuisine.
Happy Eid al-Adha to you and your family!