Samosas are one of the most tempting and easily-available street food dishes. From grocery stores to star-rated restaurants, samosas are available anywhere. Samosa, a triangular snack, brings the most delectable taste when enjoyed with a variety of chutneys. Frozen samosas from Rajbhog Foods come in handy, as you can enjoy them whenever you want! Offer samosas to your guests with some unique recipes and put them in a good mood. Read more about frozen samosas, different types of samosas, and recipes you can try at home with them.
Samosa, the most authentic Indian street food, is popular in the Northern parts of India and has now traveled across every continent of the world. The original samosa recipe has spiced potatoes, onions, peas, or lentils; various samosa types are enjoyed with different chutneys. Nowadays, there are a variety of samosas with different kinds of fillings.
The history of samosa stretches back to the 9th century in Persian writings. The Arabic scripts dating back to the 10th and 13th centuries also make mention of various types of samosas, and the most common ingredients found in samosa recipes are oil, butter, salt, dough, and warm water. Today, Indian cuisine, especially street food, is just incomplete without samosa and its tasty varieties.
Some popular types of samosas enjoyed are:
Cheese samosa

Potato samosa

Mexican Samosa

Potato and peas samosa

Spinach and cheese samosa
Convenient Frozen Samosas from Rajbhog Foods
If you are looking for the best samosas in the USA, there is only one name you need to remember and that is Rajbhog Foods!
We have been specialists in bringing the authentic taste of India to the USA since 1981! We have never failed to maintain authenticity when it comes to traditional dishes from India.
We offer two amazing varieties of frozen samosas in the USA: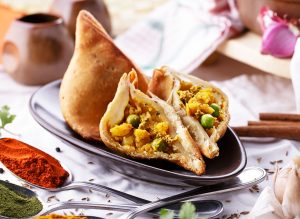 Spicy potato and peas-filled samosas from Rajbhog Foods quickly become your favorites. Just bring home our convenient packs of frozen samosas at home, deep fry them till they turn golden brown, and serve with imli chutney or tomato ketchup!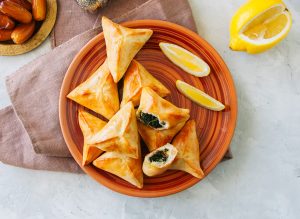 Yummy spinach and cheese samosas appeal to both desi and exotic Indian street snack lovers. Along with the best taste, these samosas are easy to prepare at home and are filled with awesome ingredients. Bring home Rajbhog Foods' spinach and cheese samosas, a pack of 24 samosas, deep fry them and serve hot with chutneys of your choice.
Here are some amazing and unique recipes you can try with our samosas.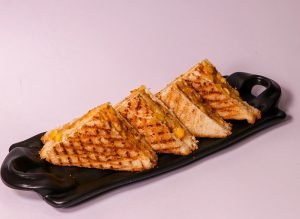 1. Samosa Sandwich:
Are you tired of the same old sandwich, here is a sandwich recipe with a desi twist. Break samosas into small pieces, press these pieces into two buttered sandwich breads, and grill them in a toaster for a few minutes. Make sure the bread is toasted correctly, and enjoy it with chutneys or a dip.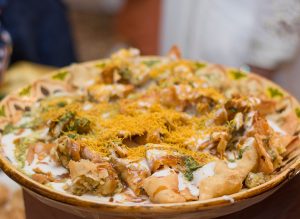 2. Samosa Chaat:
Let's indulge in samosa in its best version – samosa chaat! You can add pretty much anything you like to this dish. We suggest having chickpea curry, chopped onions, tomatoes, and imli chutney, and garnish it with crispy sev. To make it more fun, you can add different spices, curd, and you are ready with a samosa chaat recipe.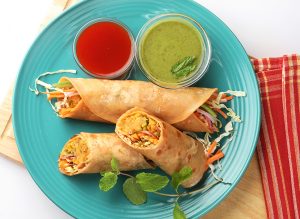 3. Samosa Frankie:
If you want to try something out of the box, try Samosa Frankie. Bring your regular Samosa and crush it with your hands. Then, take a frankie base and add the crushed Samosa to it. Along with that, you can add freshly cut onions, spices, and sauces.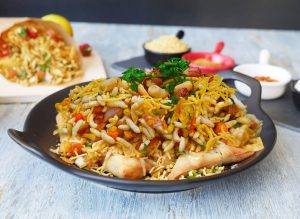 4. Samosa Bhel:
Want to turn your samosas into a delightful, quick, and super crunchy bhel? Crush samosas with your hands, mix some regular rice puffs or murmura, and top this combination with onions, tomatoes, and squeeze a lime. Make sure you toss them together with imli chutney. Here you go with samosa bhel. If your friends haven't heard about this dish, prepare it at home and surprise them.
Frozen samosas from Rajbhog Foods have the best flavors and are made with the purest ingredients. Here are our best-selling samosa varieties you can try for the recipes.
Rajbhog Foods brings you more than just frozen samosas, explore our heat-and-eat section today and choose your favorite Indian appetizers, sabzis, Indian breads, rice varieties, Indian sweets, and desserts. We have a complete package if you are looking for perfect ready-to-eat food.
With Rajbhog Foods, you get a trusted partner for authentic Indian food!
All our varieties are available in multiple grocery stores across the country as well as our signature Rajbhog Cafés in select areas.
You can also enjoy our varieties at home by ordering from popular food delivery apps like UberEats, DoorDash, and GrubHub.
So, what are you waiting for? Visit Rajbhog Café and get your favorites.