How do you like to eat Dahi? Do you like to have it plain or prefer to make some dishes with it? Well, Dahi is an essential addition to a complete Indian meal, and we bring you some more delicious reasons to add Dahi to your diet. Read this blog to know about some recipes that you can make with Dahi!
One of the most loved dairy products, Dahi is versatile and highly rich in nutrients. Dahi is also known as 'curd,' and in many other parts of the world, it is known as yogurt. The benefits of eating yogurt are plenty. It is extremely rich in calcium and protein content, is good for the gut, and is great for the overall body.
The versatility of Dahi involves consuming it plain, and there are a host of delicious dishes that can be made with it.
So, are you excited to know how you can use Dahi to make some of the tastiest dishes? Let's get right in!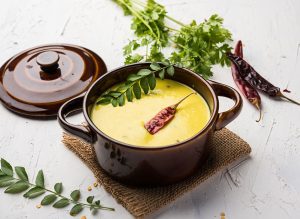 Dahi ki Kadhi:
Dahi ki Kadhi is a recipe that serves as a perfect dish for lunch or dinner. It is one of those Dahi recipes that you relish with rice or chapatis. It is an easy-to-prepare dish, where all you need is two cups of dahi, one cup of besan, and some spices like turmeric powder, cumin seed, red chili powder, curry leaves, etc.
Once you mix the spices, besan, and dahi in a bowl with some water, you can heat a kadhai on medium flame. Then you have to put the besan mixture and let it boil. When this is done, all you have to do is add some salt and green chilies and let the whole thing simmer for about 20 minutes.
Meanwhile, you need to heat a little oil in a preferably non-stick tadka pan and add the cumin seeds, curry leaves, green chilies, and the rest of the spices. Sauté them well for some time, and finally pour it all over the Kadhi. Once you transfer it to the serving bowl, add some coriander leaves for garnishing. Serve it hot, and you will enjoy the amazing taste.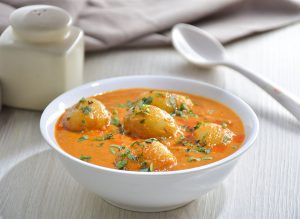 Dum Aloo:
Next, we talk about one of the most loved dahi dishes from North India – Dum Aloo.
To make Dum Aloo, you need potatoes, of course, but they have to be boiled in salt water. Then, you require some basic ingredients like ginger garlic paste, green cardamom, turmeric powder, Kasuri methi, red chili powder, etc. The most crucial ingredient of this dish is Dahi.
It is not much of a hassle to cook this delicious dish, but you have to follow a procedure. Grind the cardamom, cumin seeds, cashew nuts, and cloves until it forms like a powdered mix. Keeping aside the turmeric and red chili powder, sauté all the other spices and some finely-chopped onions in medium flame for some time. Now beat Rajbhog Dahi well and add the dry mixture to it.
Then, add the turmeric and red chili powder, and mix well once again. Then you must add the potatoes, Kasuri methi and cook for some time on low flame. Add some water and let it boil till you are satisfied with the gravy. Your Dum Aloo with dahi is ready to be savored hot with rice, chapati, or naans as per your choice!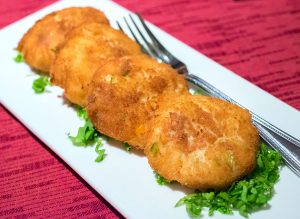 Dahi Kabab:
Did you know one can make Dahi Kababs? It's interesting and astonishing at the same time. But, it is also very tasty! Let us tell you all about it.
A North Indian delicacy, these lip-smacking kebabs are usually shallow fried or grilled. There are a few things that you need to keep in mind for this recipe and one of them is you must use absolutely fresh curd.
Now, you will need a bowl in which you will have to place a sieve lined well with a muslin cloth. Then you have to pour some fresh Rajbhog Dahi, preferably a couple of cups. Once you get the edges of the cloth together, wring it gently so that the excess whey gets drained out. Use a heavy bowl over the curd pack to completely remove the whey which is in excess. Then, refrigerate the whole set (bowl, sieve, curd, the weight) for about 12-14 hours.
Once the hung curd is ready and make sure that it has no whey left in it, you must add it to the mixing bowl. Add some crumbled paneer, garam masala, ginger paste and salt. On top of these you must add onions, coriander leaves, cashews, and green chilies. Now comes the time to add the final ingredient that is the bread crumbs!
Make sure that the mixture is not sticky and make balls of equal size. Once you're done, flatten out the balls and join the cracks if you see any. The final step requires you to roll these flattened out balls over besan and shake off the excess flour. After 5 – 7 minutes of letting these rest, you can fry the kebabs on medium heat and serve them hot with mint chutney. Watch as your guests pop one after another and appreciate the wholesome taste of these unique kababs.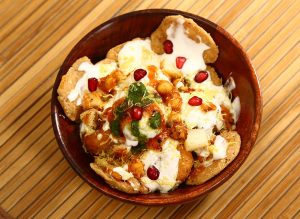 Dahi Papdi Chat:
If you're looking to try out some authentic Indian street food, then Dahi Papdi Chat is the perfect dish for you to savor. A variety of ingredients are added to this dish, and these are very basic ones that are usually available in every household. All you need is some chili powder, garam masala, onions, salt, etc.
Apart from the spices, you will need to have some papdis, finely chopped and boiled potatoes, chickpeas/sprouts, and finally the most important ingredient, Rajbhog Dahi!
The process of making this dish is very easy and you just need to place the papdis on a serving plate and add the potatoes and chickpeas/sprouts. Once you top them with chopped onions, you must use whisked curd and pour all over the plate. Now, sprinkle a pinch of each of the spices and then add one more tablespoon of dahi, green chutney and tamarind chutney and your Dahi Papdi Chat is ready. Sprinkle some sev on it to garnish and it will get ready to be served and savored with utmost happiness.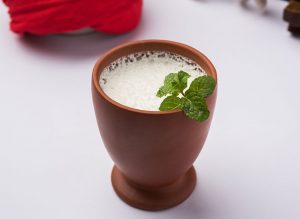 Lassi:
After a tiresome day at work, when you crave some refreshment, all that makes you feel calm is a chilled glass of Lassi. Dahi, as we mentioned above, is extremely nutritional and rich in health benefits and a cool drink made with it is sure to make you feel fresh.
Lassi has a lot of variants, and you can choose to make either as per your choice. Make sure that you use fresh curd and whisk it well until all the lumps are eliminated. Now, add some sugar and as per your choice and taste, add chilled water. Don't add too much water if you wish to have a denser consistency of the Dahi. Finally, top it with some saffron strands, chopped nuts, or cardamom powder, and it will be ready. Beat the tiredness and fatigue with this absolutely refreshing drink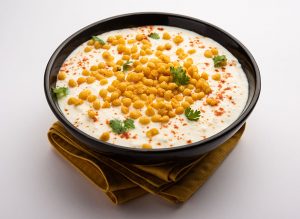 Raita:
When it comes to Dahi recipes, then Indian raitas deserve special mention. There are various raitas, dahi remaining the central ingredient behind this beautiful dish. Starting from vegetables to fresh Indian fruits, spices, spicy boondi, to namkeen, you can use almost anything to make your favorite version of raita.
Dahi will never cease to be a crucial part of an authentic Indian diet. The Dahi recipes mentioned above are easy-to-make, and our Rajbhog Dahi is the right choice if you make any of these dishes.
If you want to grab a pack of our very authentic Rajbhog Dahi, then you can head to a nearby grocery store or Rajbhog Café and get it. You can also order online from us, and it will reach your doorstep! So, get hold of Rajbhog Dahi today and make all your favorite flavorful dishes with this healthy and beneficial ingredient!