Are you a fan of making innovative DIY dishes from various different food items? Then, you must read this blog! We have curated a list of some delicious DIY dishes that will help you customize your meal options with our products.
Do you want to bring creativity to your food? With these interesting, creative food ideas, you can experiment and explore some dishes made with Rajbhog Foods. Some of these are DIY snacks, some are side dishes, and some are meal options.
These will come in handy when you have minimal ingredients at home or leftovers, or sudden guests at home, or even just want to make something different for a change.
Let's dive in right into the DIY dishes ideas.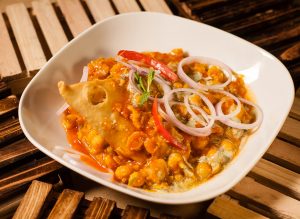 Samosa Chat
When everything feels dull, the one dish that can cheer you up is Samosa Chat. Take our Potato and Peas Samosa, break it up in pieces with your hands. Then add some Chole from our frozen food section. Heat them up and put them on the Samosa. Now, add the flavorful chutneys, like tamarind chutney and coriander chutney, with a topping of strings on onions and some Sev to top it off.
Not just for yourself, but it's a fun snack to make for your family too!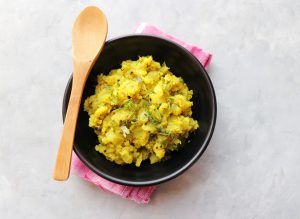 Sukhi Bhaji Cone
Did your kids leave Sukhi Bhaji, and you've got leftovers from last night? Well, here's a fun appetizer you can make with the same bhaji that they will love. Take some maida flour, make a dough and make some small circles in the form of small rotis. Now, cut these circles to form semi-circles. Then, take these semi-circles and twist them to make a cone. Now fill the Sukhi Bhaji in the open part of the cone. And lock it with some cheese. Now, bake/fry it as per your choice. And top it off with some Sev. Serve it with ketchup or any other sauce. We're 100% sure your kids won't say no to this delightful snack.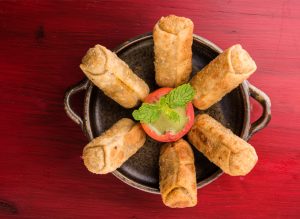 Kabab Roll
One of the most incredible DIY foods is Kabab Roll. Our Vegetable Kabab is a delicious appetizer, and we've brought a recipe with a twist on it. Take a roti or frankie base, spread the sauce of your choice on it, take mayonnaise/ketchup/ranch sauce, etc., then add some veggies like onions, tomatoes, bell peppers, etc. Then, take the fried Kababs and put them on the veggies. Lastly, sprinkle some cheese, salt, and pepper, and then roll it up! This is one of the most filling and creative lunch ideas. Try it today!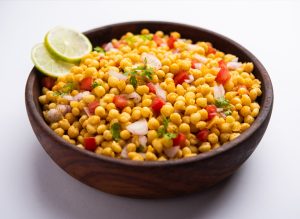 Boondi Bhel
Here's an innovative DIY do-it-yourself idea with Boondi! You may have had puffed rice bhel, but here's a new type of bhel to try. It's a super quick and fun food to make. Take our Spicy Boondi, add some chopped onions, tomatoes, green chilies, coriander, and squeeze some lemon! Voila! Your Boondi Bhel is ready. You can give it your own spin with some additional ingredients like raw mango if it's in season or some sev to top it off.
Additionally, there are a few things you should take care of with this recipe.
Don't add salt as the boondi is already flavored and is added with spices and salt.
Make it fresh and serve it right away; otherwise, the boondi will get soggy.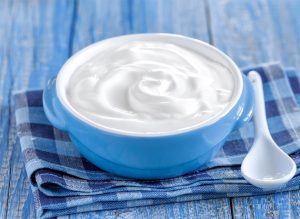 Cheese Curd Dip
Do you want to serve something unique and tasty when your guests arrive? Here's a fun food to try this festive season – Cheese Curd Dip.
It's an easy recipe that can enhance your get-together. This delicious dip makes a world of difference to your party.
Take 1 ¼ cup Dahi, beat it, add a spoonful of milk, some chopped coriander leaves, some mint leaves, grated Cheddar cheese, and masalas like salt, pepper, chili flakes as per your taste.
Just mix them all up, refrigerate, and serve the dip with some chips, nacho chips, raw vegetables, or breadsticks.
Final thoughts
We hope these DIY dishes add creativity to your food on special occasions. You can buy all these dishes from a Rajbhog Café or a grocery store near you. You can also shop from the comfort of your home on our website at www.rajbhog.com. We hope you try these and enjoy these creative dishes!