Winter, the most magical time of the year, calls for delicious meals and winter desserts. These warm and soulful winter desserts are good for your taste buds as well as great for your body. Read this blog to know the authentic winter desserts offered by us.
Winter is here, and the Holidays have just ended. But we are still in the festive mood. Winter celebrations and gatherings are full of feasts, and feasts always include delicious and hearty desserts.
After a sumptuous meal comprising all sorts of spicy and flavorful dishes, hearty and comforting winter desserts are a must. Desserts that warm your heart and melt it too.
Here are some of the best Indian desserts offered by Rajbhog Foods to enjoy and stay warm during the winter season.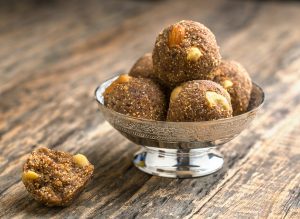 Punjabi Pinni is one of the most delicious Indian winter sweets, and as the name suggests, it originates from Punjab. This sweet is usually prepared with wheat flour, sugar, fresh butter or ghee, and rich nuts. Our Punjabi Pinnis come in round shapes and are comforting and heartwarming, just like your mother made them. Pinnis can be had like a sweet or paired with a warm glass of milk.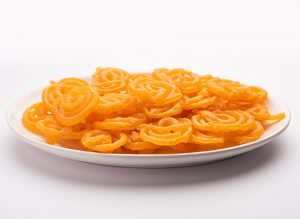 Jalebi is a crispy sweet treat that comes in a spiral shape and is loved by everyone. It is one of the traditional Indian desserts and tastes heavenly when served hot. People drool over a bite of hot Indian jalebis during winter. You can have it as it is or pair it with a glass of warm milk. We offer Yellow Jalebis and Orange Jalebis. Choose what you like and indulge!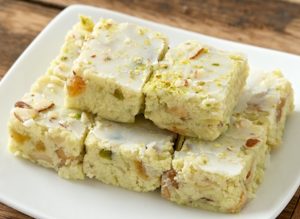 Dry fruits are widely consumed by people all over the world, especially during winters. They are rich in Vitamin E, help warm the body, and comprise anti-aging properties that help your skin encounter the cold weather with much more comfort. Additionally, dry fruits also help treat winter illnesses like cold and flu. Various kinds of sweets are made with dry fruits such as dates, raisins, or figs, made with cashews, peanuts, almonds and You can choose from our variety of sweets made from dry fruits such as Kaju Katli, Dry Fruit Roll, Khajur Roll, Dry Fruit Halwa and many more. These healthy sweets serve as the best Indian treats for sweet lovers throughout the winter!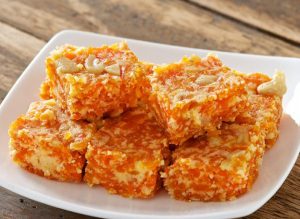 Gajar Halwa is synonymous with winter. Isn't it? Every Indian craves this juicy carrot pudding, and it's the most awaited winter dessert! It is sweet, topped with crunchy nuts, and filled with the goodness of ghee; every bite will take you back home! Want to try some now but don't know how to cook it? Don't worry! We bring you a delicious ready-to-eat version of it. All you have to do is warm it up, have a bite, and then let the Gajar Halwa warm your heart!
These winter desserts are ready to be devoured and can be ordered to your doorstep or can be bought from your nearest Rajbhog Cafe or grocery store. What's the best part? You can have these winter desserts all around the year.
So, what are you waiting for? Get these desserts, relish them and let them warm your body and heart!