Do you love teatime conversations? Then you know how important it's to have the right snacks to accompany your chai!
Continue reading to learn about some great snacks that will go well with your favorite cup of grub!
The best way to enjoy a relaxed evening is with hot chai, delicious snacks, and great conversations with your loved ones. It's important to choose the right treats that will enhance your chai time. These evening snacks can range from flavorful dry bites, baked cookies, or even tasty appetizers.
Thankfully, when it comes to such ready-to-eat bites, you can find many varieties of Indian snacks at Rajbhog Foods. They all go great with a side of tea, coffee, or any of your favorite evening beverages. But with such a wide variety comes the dilemma of choice. It's not easy to decide what Indian snacks to stock up on while you're out shopping.
That's what will bring you to this blog. We're here to guide you on your snacking adventure by exploring various Rajbhog snacks with you. So hop on the ride and get ready for a flavorful journey!
Gathia is a savory snack that goes great with masala chai. It is very light and gives a soft crunch when you bite into it. Gathia is very mild in flavor, but you also get different varieties based on your choice. You can choose to get spicy variants like Bhavnagar Gathia, Black Pepper Gathia, Garlic Gathia, or Alu Bhujia, if you want a zing of spice in your evening snack. You can also have these varieties of Gathia for your breakfast.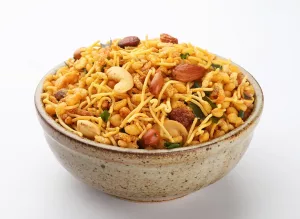 Mixtures are packed with a variety of flavorful ingredients that will surprise you with every bite. You can find many different kinds of mixtures in the market. If you're looking for something mild in flavor, you can opt for Bhel Mix, Corn Chevda, or Rajbhog Mix. But if you seek something spicier, you can choose either Bombay Mix, Chewda Mix, or Extra Hot Mix. They are also great snacks for guest visits, small get-togethers, or road trips.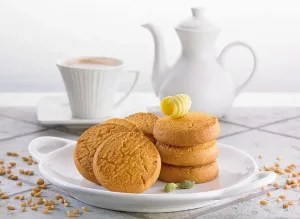 Cookies have always been a favorite snack to have in the evening for people around the world. You can have them with tea, coffee, or milk, and you can also add a scoop of ice cream in between them to make a delicious dessert. Rajbhog snacks offer different types of cookies like Butter Cookies, Kaju Pista Cookies, Coconut Cookies, Jeera Biscuits, Rajbhog Almond Cookies, and Naan Khatai. You can also try other AppetizersIndian baked treats known as Para and Mathi. You can get Methipara, Namakpara, Gudpara, Sakarpara, Punjabi Sakarpara, Punjabi Mathi, Punjabi Methi Mathi, and Masala Mathi.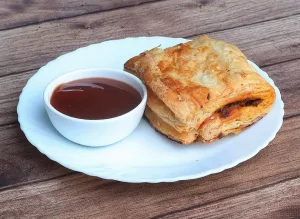 Having some hot and flavorful appetizers as snacks on a chill evening sounds heavenly, doesn't it? Well, we have some amazing options for you to choose from in this category. You can get Potato And Peas Samosas, Moong Dal Kachori, Vegetable Kababs, Vegetable Puff Pastry, Coconut Patice, and Cashew Roll. Just heat them as per instructions and serve them with some ketchup or dips. Rajbhog Foods has the best appetizers in the market, and you can find all these tasty treats we mentioned above in our Appetizers section.
The Last Bite
We offer the best Indian snacks in the USA. Even if you are looking for special snacks like specific festival snacks, diet treats, or fasting munchies, you can get them all on the website. Just browse through the Snacks section to find all your favorite snacks.
And if you are still perplexed about what to get, we advise you to try out a few combinations over the next couple of weeks. This will help you decide what you like and what you don't like. You can find the snacks mentioned above and many more at your nearest grocery store, convenience store, delicatessen, or Rajbhog Café. You can also get all the Indian snacks delivered to your home anywhere in the USA. Just place your order online and have a happy snacking adventure in the comfort of your home!