Snacking is the best part of taking a trip. But it becomes challenging to decide on one when you have many delicious options on the menu.
So here's a guide to all the tasty travel snacks that can be a part of your summer trip!
It's summertime! Everyone dreams of taking a fun and exciting trip during the summers. We all are thrilled about meeting new people, exploring new places, and having delicious summer food. Speaking of food, we're sure you will try various dishes on your vacation; you still need some of your favorite treats in hand. That's where your favorite snacks come in!
A true desi foodie knows that snacks are the soul of every great trip. So, whether you're on the road or in your hotel room, having your favorite Indian snacks to munch on is always a good idea.
But it's not easy to decide which snacks to pick, especially when you have so many options to choose from. That's why we're here. Our wide range of authentic and flavorful desi snacks will satisfy all your cravings. So continue reading to find out more about all the Rajbhog snacks that will enhance your summer trip.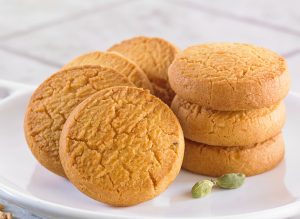 Cookies
Cookies are a must-have road trip snack. They are very easy to carry, and you can have them anywhere and everywhere. Enjoy them with a glass of milk, a cup of tea, or even coffee; either way, they are perfect to keep you filled while you're on the road. They also don't create much of a mess and are very easily manageable.
At Rajbhog Foods, have a variety of flavors in cookies. You can try our Butter Cookies, Almond Cookies, Coconut Cookies, Kaju Pista Cookies, and the desi variant, Naan Khatai. There's also Sakar Para which is also an alternative to your favorite sweet snacks for your trip.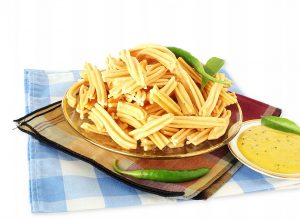 Gathia
Gathia is a Gujarati favorite that's a great option for an easy and clean travel snack. And since it's a chickpea flour-based snack, it's also quite filling. Just like cookies, you can pair them with tea and coffee. Its savory flavor also goes well with juices or other drinks.
You can get Gathia in different flavors and forms. For example, Black Pepper Gathia, Bhavnagari Gathia, and also Garlic Gathia.
Another alternative that falls under the same category is Sev. You can use Sev as a crunchy topping for any of the dishes that you try on your trip. Our Sev options include Regular Sev, Fine Sev, Nylon Sev, Bikaneri Sev, and Aloo Bhujia.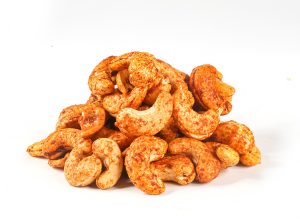 Flavored Nuts
Nuts are a great source of healthy nutrients. They also give you a lot of energy to keep up with a hectic travel routine. And it's even better when you can get them in your favorite desi flavors! They make for a fantastic travel snack no matter where you go.
You can find a variety of them here. You can get Spicy Cashew, Black Pepper Cashew, Spicy Peanut, and also Peanut Bhujia.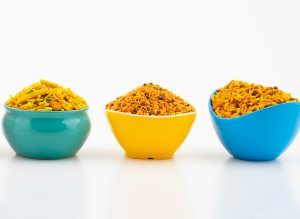 Mixtures
Surprise your palate with the unique flavors of our mixture snacks. Carry a few packs of these mixes in your backpack, and you will never have a dull trip again!
Speaking of varieties, you can always experiment with a new combination of mixtures for different trips. There's Rajbhog Mix, Extra Hot Rajbhog Mix, Bombay Mix, Madras Mix, Amdavadi Mix, Chewda Mix, Corn Chewda, African Chewda, Farari Chewda, and Spicy Farari Chewda for you to choose from.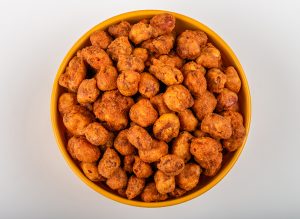 Honorable Mentions
We couldn't categorize some of the travel snacks, but they are still worth mentioning. So here are a few more you could consider.
Lentils: Just like mixtures, spiced Lentils are also flavorful snacks. They come in several varieties like Masala Chickpeas, Dal Moth, Chana Dal, and Pudina Chana Dal.
Boondi: Boondi is a crunchy and savory snack that works great as a topping or an accompaniment. Not only can you have them as a snack, but you can also make the desi favorite Boondi Raita with them. You can also get Spicy Boondi for a punch of heat.
Methi Thepla: There is a rule in a Gujarati household that whenever you are going out on a long journey, you always pack some Theplas in the bag. And that's because Methi Thepla is a delicious Indian flatbread that can last for days. You can have it with some pickles, tea, coffee, and you can also use them as a substitute for Rotis. You can also spread some jam on them and roll them up for a ready-to-eat travel snack. Methi Thepla is undoubtedly on the top of the list of road trip snacks.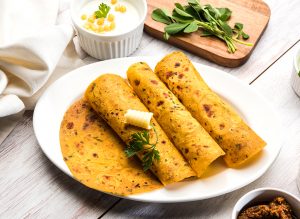 Final Thoughts
It doesn't matter if you're planning an elaborate vacation or a small beach trip; you can always keep some snacks to munch on. But it may be difficult to find authentic and delicious Indian snacks in the USA.
Well, not anymore, because that's where Rajbhog snacks come in! We have some of the best cookies, flavorful snacks, and delicious Theplas you can get your hands on. So in case, you're looking to order your favorite Indian snacks in the USA, visit our snacks section on the website.