Every celebratory desi meal is incomplete without some of the most popular Indian desserts. But how can you add them to your everyday meals to make them more exciting? Keep reading to find out!
Anyone who has enjoyed Indian meals knows that dessert is an important course. Indian Mithai has a special place in everyone's hearts. Whether it be Kaju Katli, Besan Ladoo, Coconut Burfi, Kesar Peda, Balushai or even Gajar Halwa, you always get excited about it. So why not add a bit of the sugary goodness to your daily meals? That's probably the best way to get anyone excited for the regular meals.
Still not convinced? Well, then you should continue reading for that extra motivation to add a bit of happiness to your daily meals.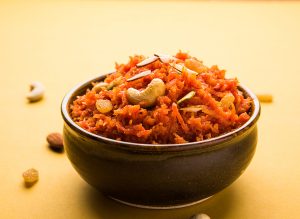 Gajar Halwa is one of the most popular Indian desserts. As mentioned earlier, it's a winter speciality in India. But you can also enjoy it all year long.
A warm bowl of Gajar Halwa can attract even the most stubborn of couch potatoes to the table. You can also try its alternative, Dudhi Halwa.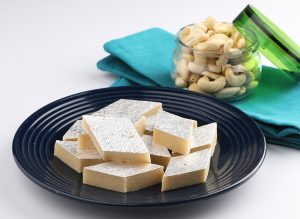 Like Gajar Halwa, Kaju Katli is also one of the most popular Indian desserts worldwide. It's a cashew-based kite-shaped dish that is usually topped with a silver film. This bite-sized treat is the perfect mithai to have after you have finished some mouth-watering food.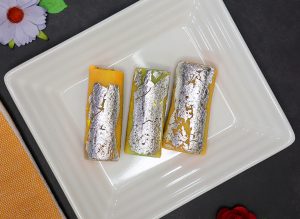 Badam Roll
Badam Roll is an almond-based nut roll stuffed with a pistachio mixture. It is usually a three-inch-long bite-sized sweet dish. The ingredients also include some spices like cardamom powder and cinnamon that give it an interesting taste.
A Badam Roll should be enough to satisfy your sweet tooth.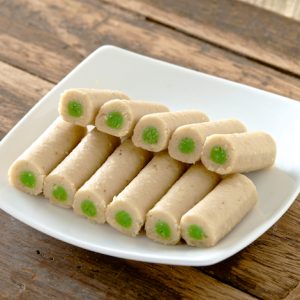 Just like Badam Roll, this too is a nut roll. However, what makes it different is that it has two primary ingredients: cashews and pistachios.
They use each nut to create two separate doughs. Then they use the pistachio dough that is stuffed within a cashew dough roll. The amazing blend of flavors makes this nut roll a great post-meal treat!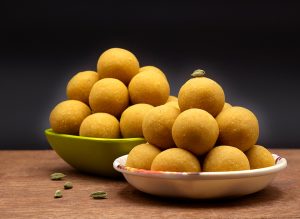 It's one of the most commonly consumed sweets in India. A box of Besan Ladoo is also considered a great gift to offer to your neighbors, friends, and family. It's made with a gram flour mixture, sugar, and roasted nuts.
This tasty mithai can prove to be a great light and sweet treat after meals.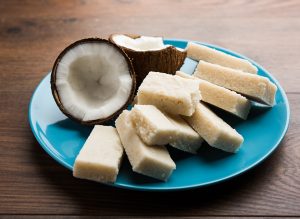 This is a coconut-based fudge-like dessert topped with chopped pistachios. Every bite of this melt-in-your-mouth treat will give you a burst of amazing flavors. This heavenly mithai will keep everyone in the family happy.
Apart from Coconut Burfi, you can also try these variants like Besan Burfi, Badam Burfi, and Chocolate Burfi.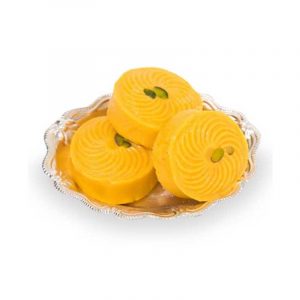 Kesari Peda is a creamy semi-soft saffron-flavored mithai that's round in shape. Once you bite into it, every delicious crumble will melt in your mouth. You will have the rich and creamy flavor of the peda and the unique taste of saffron all over your palate.
As it's quite small in size, it can be the ideal dish even for the most restricted diets.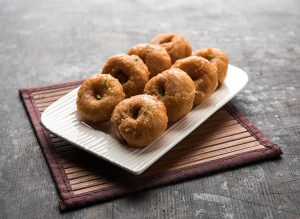 Balushai is a South Indian specialty that is also known as the Indian doughnut. However, it's a lot different from a doughnut in terms of taste and texture. It's traditionally made with a dough of all-purpose flour deep-fried and then dipped in sugar syrup.
You can also find other variations that have nuts. Just like a doughnut, you can grab it on the go!
Final Thoughts
This was just an overview of what you can possibly get at home for your everyday delight. There are many more options you can try to find your perfect match.
There are many places in the USA where you can find frozen Indian sweets. But there is only one place that produces the freshest and most authentic Indian mithais made with fresh milk, pure ghee, and mawa. And that place is the most premium Indian sweet shop in the USA, Rajbhog Foods.
Our Rajbhog Sweets menu has a variety of amazing sweet dishes that you can try. You can also choose to order Rajbhog Sweets online from the comfort of your home.
If you're still having a difficult time choosing, then we have other options for you. You can simply order our gift hampers like the Celebration Hamper or the Rajbhog Royal Hamper to try a little of everything. You can find it under the Rajbhog Sweets menu. Just log in and order Rajbhog Sweets online now!