10 Must-Try Rajbhog Sweets
Sweets are what make any cuisine special.
They are simply irresistible and when it comes to Indian sweets, just one piece is never enough.
At Rajbhog Foods, you will always be spoilt for choice when it comes to sweets.
If you are new to Indian sweets or are confused about what to pick the next time you visit us, here is a list of 10 Rajbhog sweets that you can't miss out on.
Sweets are the crowning glory of any cuisine. Every cuisine has different preparations of sweets and confectioneries that are special to its culture. In addition, sweets signify celebrations. Hence they are made, shared, and devoured on festivals and special occasions. Indian sweets symbolize the vibrant culture of India. Whether it is the classics like Gulab Jamun and Rasgulla or everyone's favorites Kaju Katli and Motichoor Ladoos, Indian sweets have a special place in all our hearts.
Rajbhog Foods is known for its irresistible sweets. They are made with authentic ingredients and a touch of love. Therefore, every bite of these sweets take you on a nostalgic journey back to your roots.
Here are 10 Must-Try Rajbhog Sweets that you should definitely have: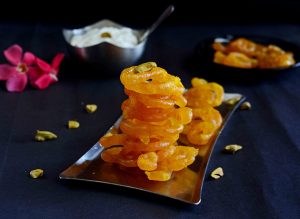 Jalebis are fried circles of sweet dough, with an added pinch of saffron, soaked in a sugary syrup. For this reason, they are a staple at any Indian festival.
Put out a plate of them at your next party and watch them vanish within seconds. That's how tempting they are. Rajbhog Foods has several types of Jalebis like Yellow Jalebis, Orange Jalebis, and the most elite of them all, Amratis.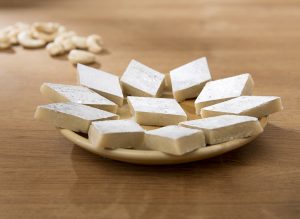 Kaju Katlis are made with real cashews and beautified with a silver coating. As a result, they are always an important part of any celebration.
Kaju Katlis are as pretty to look at as they are to eat. In addition to these, Rajbhog Foods offers various other delicious cashew-based sweets such as Mango Kaju Katli, Kaju Pista Roll, and Nut Roll.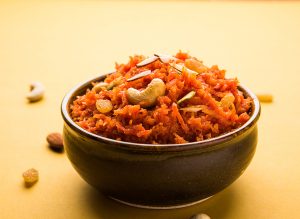 Imagine it is the winter season and you are enjoying hot Gajar Halwa, dripping in ghee and topped with fruits and nuts.
Such is the magic of Gajar Halwa, the most devoured Indian winter dessert. In addition to Gajar Halwa, Dudhi Halwa is also a very popular and delicious winter dessert.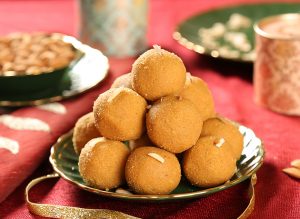 Typically made during Diwali, Besan Ladoos are one of the most delicious Indian sweets. Made from roasted gram flour, rolled in pure desi ghee, and topped with nuts, Besan Ladoos are truly tempting.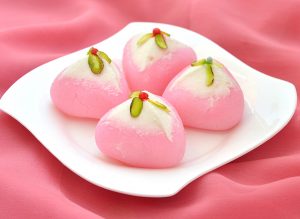 Originally from Pakistan, this delicacy is made from semolina, gram flour, sugar, and milk with added nuts.
You can serve it as a dessert or even as a welcome sweet at parties and festive gatherings. Because of this, Dil Bahar is a great choice for special occasions.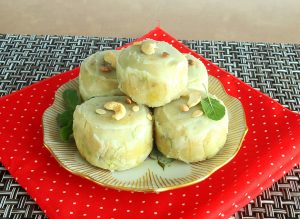 This is a traditional Gujarati dish, that originated in Surat. It is made from gram flour and desi mawa (a dairy product made from heating and thickening milk, typically used in sweet preparations) mixed with a rich pistachio paste.
Pista Ghari tastes as good as it sounds. Therefore, it is a must-have at Gujarati festivals and even weddings.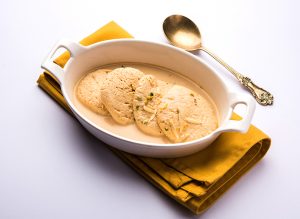 The Indian sweet with a special place in everyone's heart, Rasmalai! The richness and creaminess of Rasmalai are what make it so special.
Furthermore, the flavors of Rajbhog's Signature Rasmalai are so tempting that just one piece is never enough.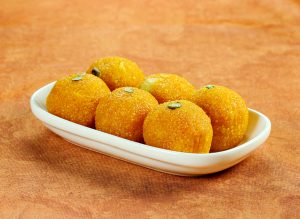 Indian festivals and Motichoor Ladoo go hand in hand. They are made from sweet boondi and ghee, these ladoos are the epitome of sweetness.
This is why they are enough to make any occasion memorable and any meal delicious.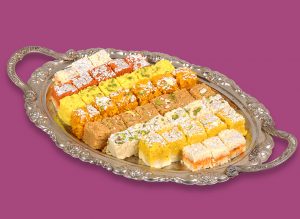 Visiting someone with a box of Burfis is a lovely tradition in India. Burfis are the language of love and affection. The Rajbhog Burfi, made from rich mawa, sugar, and nuts. Hence it is a true delicacy!
Furthermore, there are other burfis too, like the classics Plain Burfi, Badam Burfi, Besan Burfi, Coconut Burfi, and Pista Burfi and some innovative ones like Mango Burfi, Chocolate Burfi, and Milk Cake Burfi.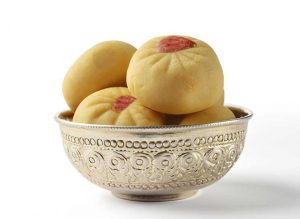 Badam Malai Peda is truly irresistible. It is made from rich desi mawa mixed with creamy malai and topped with almonds. In addition to this delicacy, there are several other pedas to choose from, such as Kesari Peda, White Peda, and the famous Mathura Peda.
Apart from these, there are many more delicious sweets in the Rajbhog Sweets Menu that you should definitely try. These include the Gujarati delicacy Monthal, the South Indian delight Messoor Pak, the pride of Agra, Agra Petha, and the Bengali special White Sandesh.
Indian sweets truly have a special place in every Indian's heart as they remind us of celebrations and togetherness. Hence, they are an integral part of Indian culture, from festivals to weddings and much more.
We are the no.1 Indian sweet brand in the USA with authentic taste and delightful flavors.
You can follow us on our social media platforms to learn more about our culinary journey.