When we talk about the best vegetarian meals of Indian cuisine, an abundant number of paneer dishes come to our minds. As an essential ingredient of vegetarian cooking, paneer serves the best dishes at a party. Read this blog to know about some of the paneer dishes you can try.
Are you planning a proper vegetarian feast for your guests? If you're wondering what to make, we'll help you decide! Alongside different preparations with greens and vegetables, paneer is the most important when it comes to special vegetarian dishes.
Why is paneer an essential vegetarian food ingredient?
Paneer is another term for Indian cottage cheese. It is the most important ingredient in a festive vegetarian dish. Additionally, paneer is extremely rich in proteins, and it keeps you full for more extended periods.
Here are some of the paneer dishes you must try at home: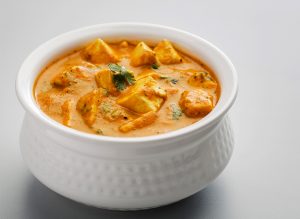 Paneer Butter Masala:
Paneer butter masala is a renowned dish for its authentic taste and easy-to-prepare party food. All you need is fresh Rajbhog Foods unfried cut paneer, cardamoms, bay leaves, ginger-garlic paste, and some tomato puree to make this dish. You make the gravy until it's well cooked, and then add the paneer till it gets mixed well with the sauce. The final dish comes out as a delectable creamy plate of paneer butter masala that you can relish with naans or rotis.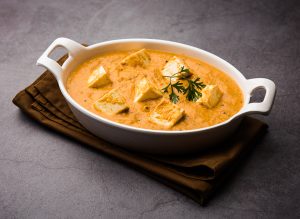 Shahi Paneer:
Shahi paneer is a dish that is extremely popular in the northern parts of India, and it originates from Mughal cuisine. Compared to paneer butter masala, shahi paneer boasts a richer taste. The ingredients that you require to make this dish are butter, raw paneer cubes, finely chopped onions, crushed garlic and ginger, heavy cream, green chilies, etc. You can leave the heavy cream and cubed paneer aside until the gravy is well cooked. Then as you add these two ingredients to the sauce, you let it cook for about half an hour more. Your dish is ready to be served to your guests, and you can enjoy it with roti or naan as per your choice!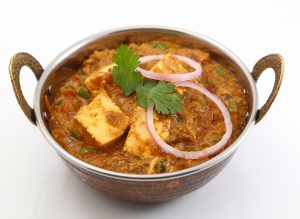 Kadai Paneer:
If you seek something spicier amongst paneer dishes, then Kadai paneer should be your choice. This dish is prepared by cooking paneer and bell peppers with different spices. To make this dish, you require a few ingredients like unfried or fried cubed paneer, Kadai masala, ginger-garlic paste, capsicum, red chillies, oil, coriander seeds, etc. You can choose to make it either semi-gravy or gravy. You can serve Kadai paneer with roti or rice as per your choice!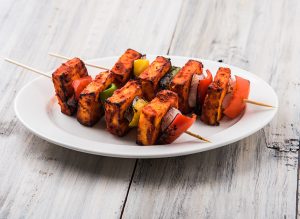 BBQ Paneer Tikka:
BBQ Paneer Tikka is loved by one and all and it serves as one of the best party starters. It is quite an innovative dish. Even though it has a long cooking process, the hassle is worth it. The tasteful dish comes out just great as one of the quick snacks for a party. The ingredients you need are fresh cubed paneer, thick yogurt, red chili powder, turmeric powder, ginger-garlic paste, fenugreek leaves, lime juice, tandoori masala, garam masala, and salt as per taste. These ingredients shall go into marinating the paneer for BBQ. As the name suggests, the cooking is done in an oven or grill, which requires preheating. Meanwhile, a skewer must be taken to arrange the vegetables like tomatoes, bell peppers, onions, etc. and the paneer in line. Serve it to your guests during a winter dinner gathering and watch as they enjoy it.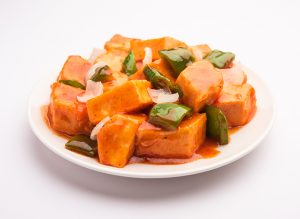 Chilli Paneer:
Chilli Paneer is a crowd favorite paneer dish that lightens up a feast when served. Its lip-smacking flavor makes everyone fall in love with the dish. The ingredients required are cubed paneer, oil, cornstarch, red chilli powder, salt, and spring onions. All you have to do is fry the paneer cubes and wait till the gravy is prepared. Once done, just add the cubes to the gravy and mix them well. Serve it hot with rice or roti.
The paneer dishes given in this blog are some of the best vegetarian dishes you can have or serve to your guests. Rajbhog Foods brings you various options for paneer such as cubed paneer, raw paneer (loose), fried cubed paneer, and many more. You can check them out on our website. If you wish to grab these, you can visit a nearby grocery store or Rajbhog Café, where these are readily available.