The auspicious occasion of Dussehra is right around the corner and
you're surely excited to celebrate it with your loved ones. So, alongside some fun and frolic, indulge in delicious dishes and share the flavors with your guests. So in this blog, we bring you a list of Gujarati food you should enjoy during this festival!
Dussehra celebrations are an integral part of the Indian tradition. The Dussehra festival, also known as Vijayadashami, is celebrated with great enthusiasm throughout India. People make offerings and pray to God for their better lives, and there are theatrical attractions where Ramlila, the story of Lord Rama, is enacted on stage. People wear colorful clothes and eat tasty Indian food to celebrate victory over evil which is the crux of the festival.
On this auspicious occasion, food is an essential aspect. People enjoy mouthwatering dishes of Indian cuisine comprising snacks, entrees, Indian sweets, etc. So celebrate this Dussehra, with some mouthwatering delicacies and share the flavors with your friends, family and loved ones. We, at Rajbhog Foods bring you some fantastic Gujarati food you can try during this festival.
Read this blog to learn about the delicious Gujarati food items we bring you. Try out these mouthwatering delights from the land of Gujarat and make your Dussehra 2022 celebrations memorable.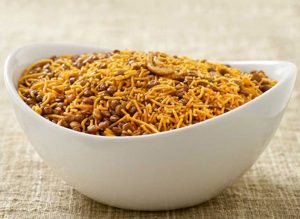 Dal Moth is a popular snack amongst Indians worldwide and is incredibly delicious. If you're looking for that perfect snack to enjoy with your tea or coffee, then Dal Moth is the only dish that will leave you with a big smile.
This snack is fried and is made of moong beans and chickpea flour. Its scrumptious taste will definitely make you fall for it and additionally the crunchy nature of the snack adds to its goodness even more!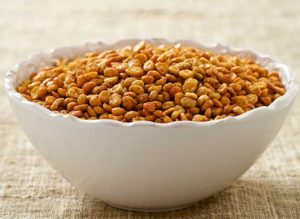 In addition to being a savory snack of Indian cuisine, Chana Dal also has nutritional values that keep us healthy.
As good as it tastes, Chana Dal also offers many health benefits because it contains a high amount of fiber and protein and is fat and cholesterol free. It is one of the prevalent Gujarati dishes, and people love to enjoy it with beverages.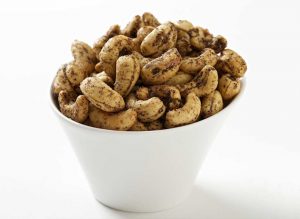 If you wish to enjoy some flavorful snacks during Dussehra, you should consider trying out the delicious Black Pepper Cashew. As the name suggests, this crunchy and tasty variant of simple cashews makes anyone fall in love with it right from the first bite.
On top of that, adding black pepper gives a spicy essence to the dish and the flavor is sure to make you feel happy and satisfied.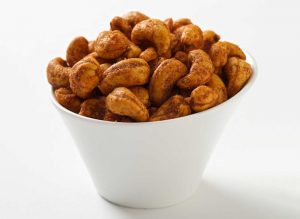 Do you prefer spicy dishes? If so, then try out the extraordinary dish that we offer! We bring you delicious Spicy Cashew in our range of authentic Indian snacks. The flavor of roasted cashews is nothing short of heavenly, and it gets even better when a variety of tasty Indian spices are added to it.
This snack is the perfect dish to offer your friends when celebrating Dussehra. Serve a plate and be prepared to return to the kitchen immediately for a refill because your guests will keep asking for more.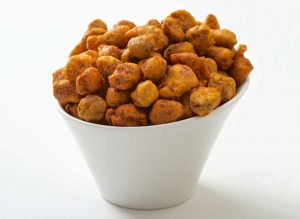 Peanut Bhujia is a snack that deserves a special mention in the list of Gujarati food. These peanuts are coated with chickpea flour and are spicy by taste but give a tangy essence to their ingredients. It is a lip-smacking snack just in case you wish to bring a change of flavors to the range of snacks you serve your guests at the Dussehra celebrations.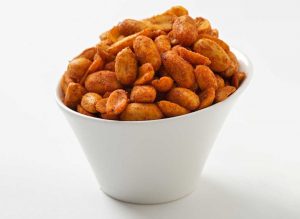 Rajbhog Foods offers another flavorful and mouthwatering variant of peanuts in the form of Spicy Peanuts. This authentic Indian dish comprises hard-to-resist flavors and is spicy to the core.
You've surely guessed by now that since the spicy taste is the main attraction of this dish, the prime ingredient is chili powder. It also boasts the flavors of various other spices, making it unarguably one of the all-time favorite snacks for Indians.
The authentic Indian snacks listed above are some of the most delicious Gujarati food you and your friends or guests will enjoy. These mouthwatering dishes will undoubtedly amp up the fun and excitement of your Dussehra celebrations. So hurry up and visit a nearby grocery store or Rajbhog Café today and grab a pack of these mouthwatering delights.