Festivals are a significant part of the Indian culture. Every Indian festival comes with its legend, a rich history, and rituals. But every festival has one common thing; there's a lot of Indian Mithai involved.
Read on to know about the special Indian Mithai for Navratri and Dussehra.
Dussehra is one of the most important Hindu festivals, and it is celebrated on the tenth day of Navratri. Navratri worships the power of Goddess Durga and her various forms for nine days. Dussehra, observed on the tenth day, lauds the victory of Goddess Durga over the demon Mahishasura. It also celebrates the victory of Lord Ram over the evil Ravan.
The celebrations include performances, vrat (fasting), feasts, dances, and of course, distribution of sweets. There are lots of sweets involved in the Navratri and Dasara (Dussehra) festival, and we'd like to acquaint with you some of them: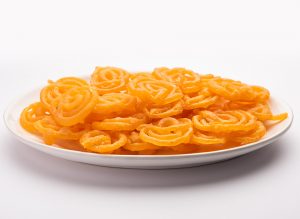 Jalebi Fafda is a traditional dish had on Dussehra day. It is believed that Lord Rama loved a sweet like Jalebi, and Lord Hanuman used to make it for him. Moreover, it is believed that he used to make fafdas to go with the jalebis. Have this delicious sweet and savory combination for breakfast with your family on Dussehra day. You can find the Jalebis at our outlet close to you.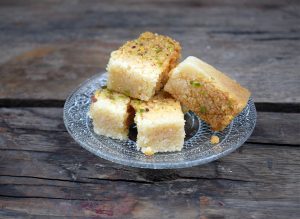 Milk Cake Burfi is loved by children and adults alike! It's one of the most famous Indian mithai and is a part of every celebration, especially during Navratri and Dussehra. Offer this melt-in-the-mouth Indian mithai to your guests right after the pooja; they will love it.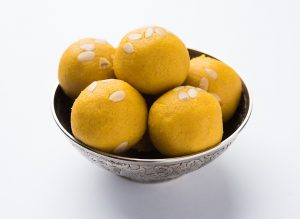 The divine, mouth-watering Besan Ladoo is the heart of every festive celebration. It can be offered as a prasad or dessert after the meal, or even given as a gift to family and friends. Give them a delicious helping of Besan Ladoo, this Dussehra, from Rajbhog Sweets.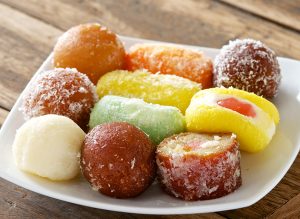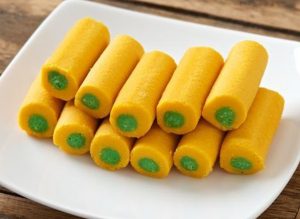 Fasting or feasting, Nut Roll can be devoured anytime. Yes, this dry fruit sweet roll filled with the goodness of cashews, almonds, pistachios can be relished during Navratri fasting too. Put a smile on your family's faces by getting it from your nearest Rajbhog outlet.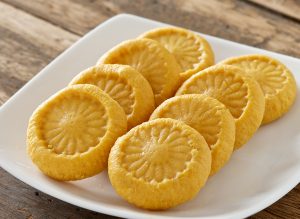 The delightful Kesari Peda is a must-have during Navratri. It is made of pure Mawa and can be had during the fasting period as well. Have it after your fasting meal, or have it after your feasting meal; either day, it's a wonderful Indian treat.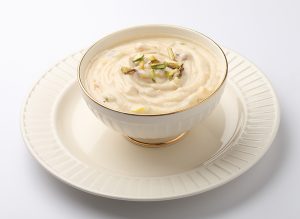 The ever-loved Shrikhand is the most fantastic part of an Indian meal. Pairing a hot puri with cold Shrikhand is a feeling that cannot be described but just experienced. Get a pack from our café and serve it at home during Navratri and feel it for yourself.
If you want to try Indian flatbreads, this is where you should start. We recommend you definitely try the breads mentioned above. All these flatbreads are available with Rajbhog Foods, freshly made in the USA. You can get them at our outlet, a Rajbhog Café around you, a grocery store around you, or on our website. All you need to do is get them, heat them and enjoy them with your choice of dish. You can pair them with Indian dishes from our frozen foods section or our achar from our pickle section. We hope you enjoy them!