Raksha Bandhan celebrates siblings' love. This wonderful occasion brings us together with our families where everyone indulges in delicious food, and shares sweets! So we bring you some amazing gift hampers that you can give to your siblings this Raksha Bandhan and make their day extraordinary!
Raksha Bandhan is one of the most beautiful festivals in Indian culture. This festival is a part of every family tradition in India and marks the special relationship and sacred bond between brothers and sisters.

With this auspicious festival just around the corner, you must be wondering what the history behind it is? So if you're keen to know how Raksha Bandhan came into existence, you can read our blog, Significance of Raksha Bandhan on our website.
Raksha Bandhan is the festival during which you pray for the better life of your siblings and shower your love and blessings on them. But it's not just that much! Your siblings will also expect some gifts for Rakhee. This festival is the perfect opportunity to make them happy with some great food and amazing gifts!
In this blog, we bring you some super gift hampers comprising various Indian sweets that you can give your siblings as Raksha Bandhan gifts and make this occasion extra special for them!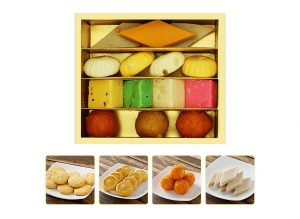 Rajbhog Foods brings you an elegant golden box with all the classic sweets in one and you can gift this box to your siblings for Raksha Bandhan. The Mix (Classic) gift hamper comprises an assortment of the most-loved Indian sweets, Burfi, Kaju Katli, Peda, and Ladoo. The variety of Indian mithai available in this hamper, undoubtedly makes it one of the best Raksha Bandhan gifts.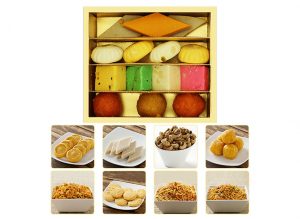 If your siblings are fond of both sweets and snacks alike, then we bring you the Classic Hamper that you can gift them. If you're curious, this classic handcrafted box comprises sweets and some tasty snacks. The box contains an assortment of all the sweets as that of the Mix (Classic) hamper along with a pack of the very savory and tasty Rajbhog Mix snack, Bombay Mix, Corn Chewda; topped off with a pack of Almond Cookies. So it is a perfect blend of namkeens and mithais that will make anyone want to finish it all in one go!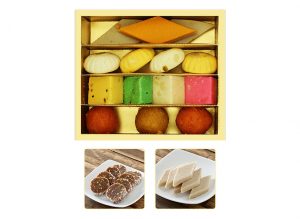 When you're planning to give your siblings a hamper with some rare and premium sweets in it, the Classic Mix (Premium) hamper is the right choice you should go with. It comes in a golden-colored 1 lb box and contains premium quality sweets from Rajbhog Foods and a fine assortment of Khajur and Kaju Katli. As interesting as it sounds, once you gift it to your siblings, they will love you ever more!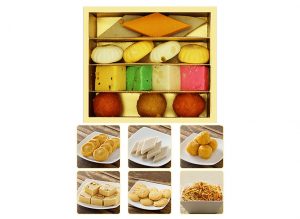 The name says it all! No celebration is complete without the Celebration Hamper from Rajbhog Foods. It is another gift hamper from our product range that comprises sweets such as Ladoos, Pedas, Burfis, and Kaju Katlis. But it doesn't end just here. This hamper also comes with a pack of the Rajbhog Mix Snack and also a pack of Almond Cookies, which might excite your tea and coffee loving siblings too!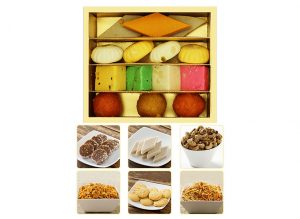 When the word 'premium' is used, you already know that something extremely beautiful is coming your way. We bring you our special Rajbhog Premium Hamper, which not only looks attractive but also contains a lot of other goodies that will surely make one happy to receive it.
This gift hamper comprises an assorted bunch of the amazingly delicious and rich Khajur and Kaju Katli along with packs of the absolutely lip-smacking Rajbhog Corn Chewda and Rajbhog Mix Snack. Not only this, but the box also comes with Almond Cookies and Cashews with Black Pepper.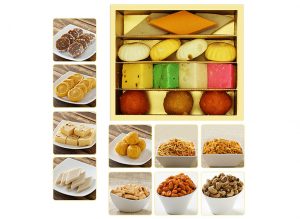 If you're eager to gift something that looks attractive and appealing to your siblings on Raksha Bandhan, the Royal Hamper from our product range is the best option that you should choose. We call it the royal hamper because of the variety of contents that it boasts of, and it is sure to make anyone just stare at it in awe due to the sheer beauty of the box.
If you're excited to know why this box might be one of the best Raksha Bandhan gifts, you should read about its contents. First of all, the Royal Hamper is a classic handcrafted bandhani box weighing almost 2 lbs. Now that you can imagine how attractive it looks, let us see what we get inside the box.
The Royal Hamper is filled with delightful surprises such as premium quality Rajbhog sweets namely, Khajur, Kaju Katli, Burfi, Peda, and Ladoo. The other additions that make it a royal hamper are the utterly delicious Rajbhog Mix Snack pack, Almond Cookies, Cashews with Black Pepper, Peanuts with Salt, Corn Chewda, and Namakpara. Once you open the box, its contents will surely make you go 'wow' right at first sight!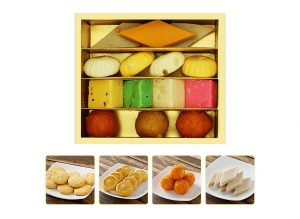 When you're unsure what your sibling will like as a gift for Raksha Bandhan, you can try this classic mix box with the perfect choice of essentials packed in it. Classic Mix from our range of gift hampers comes with a minimalistic collection of sweets such as Burfi Peda, Ladoo, and Kaju Katli. We amp it up by adding the delicious Rajbhog Mix Snack pack, some Almond Cookies and Corn Chewda. So if the minimalistic approach is your way to go for Raksha Bandhan gifts, you can choose this hamper with your eyes closed.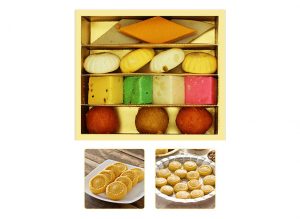 If your sibling is fond of Pedas, we have something that will surely leave them spellbound. As the name suggests, the Classic Peda gift hamper comprises a collection of both White and Kesar Pedas. This box will surely be the perfect choice out of numerous options for Raksha Bandhan gifts if your sibling.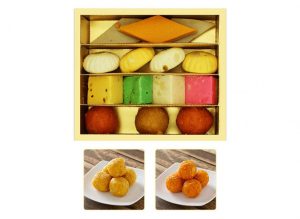 When in doubt, always pick ladoos! They're traditional, they're tasty, and they're loved by all! The Classic Ladoo gift hamper we offer comes with a collection of Ladoos, as the name suggests. It comprises the all-time favorite Indian sweet Ladoo in varied forms, such as Motichoor and Boondi. So if you please, you can certainly present it to your siblings on the occasion of Raksha Bandhan.