The chilly winter calls for cozy vibes and warmth. But the best part about this season is that it intensifies our urge to indulge in delicious food more than ever. So this blog brings you some mouthwatering authentic vegetarian winter curries that Rajbhog Foods offers. Read on to learn about them.
The most amazing time of the year is here! Winter is here! This magical season brings a chill in the air, a festive feeling, and the aroma of flavors that warm your heart. It is a season when you feel mostly lazy and want to stay curled up in blankets.
When it comes to food, Indian cuisine offers a wide variety of comforting winter curries that help keep us warm and make us happy. Going to the kitchen and cooking your favorite dishes feels like a chore most of the time during winter. So to make things convenient for you, we at Rajbhog Foods bring you some lip-smacking heat and eat vegetarian winter curries that please your soul and satisfy your taste buds. We offer you 100% authentic delicacies; you just need to heat them, and they'll be ready to enjoy.
As winter approaches, warm and spicy food is mostly preferred because indulging in such classic dishes feels divine. On top of that, since it is the season of celebrations, occasions, and gatherings, you must ensure serving dishes that make people lose themselves to the mouthwatering flavors.
In this blog, we bring you some of those special winter curries that Rajbhog Foods offer you in the most authentic versions. Scroll down and learn about these dishes to make your winter nights memorable.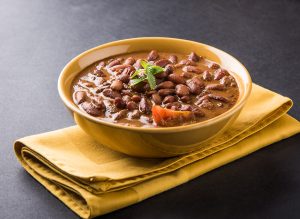 Rajma, naam toh suna hi hoga! If you're familiar with the combination of Rajma Chawal, you should also know that it is not just a comfort food but an emotion for Indians worldwide. This incredibly famous Indian curry originated in Punjab, and the rest of the world couldn't help falling in love with it. Rajma Chawal is one of the most well-known dishes for Indians, and it will hit the right spot for you during your lazy winter days.
This delicacy's spiced gravy makes Rajma one of the most-loved winter curries that soothe your body and soul. This delectable and flavorful kidney bean dish is best enjoyed with roti, paratha, and rice.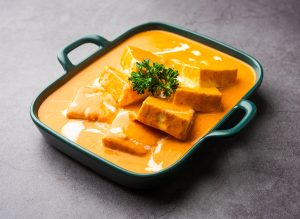 For a wholesome vegetarian winter meal, delicious Paneer dishes are a must! You can never go wrong with including at least one mouthwatering Paneer delicacy in a winter feast. So keeping that in mind, Rajbhog Foods brings you the delectable Paneer Makhani, and that too in a ready-to-eat version.
The heavenly flavors of Paneer Makhani never fail to enthrall anyone who tries out this delicacy. The rich, creamy gravy tastes so delightful that you will have difficulty resisting it. Paneer Makhani is enjoyed best with different flavored naans or chapatis per one's preference.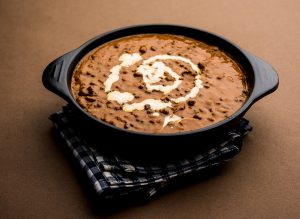 One of the tastiest and the best Indian food ever, Dal Makhani is a delicacy present on any Indian occasion or celebration. A fulfilling dish by itself, Dal Makhani brings a purely blissful experience to the table with its creamy, buttery gravy that bears the intense flavors of special spices that go into its preparation.
The first spoonful of the tender lentils simmered in the creamy tomato gravy leaves you nothing short of speechless. You experience a sheer loss of words due to the irresistible aroma of spices and the delicious taste. So this winter, enjoy this utterly flavorsome Dal Makhani and pair it with your choice of naans, chapatis, or even rice if you like it that way. Buy the frozen Dal Makhani from Rajbhog Foods, heat it, and once it is ready in minutes, share this delicacy with your family and have a heartwarming winter dinner.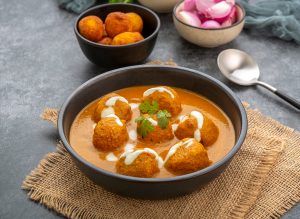 Who doesn't love to indulge in tender vegetable dumplings simmered and cooked well in a creamy and mouthwatering gravy? Just by reading about it, the thought of the utterly delicious Kofta Curry makes us start drooling. This delicacy is a hit at every party because the taste makes it difficult for people to resist craving more.
Rajbhog Foods brings you this dish in heat and eat version, so get a pack and serve your guests with some flavorful Butter Naan, Garlic Naan, Paratha, Chapati, and rice. Watch as they relish this delightful dish with utmost joy.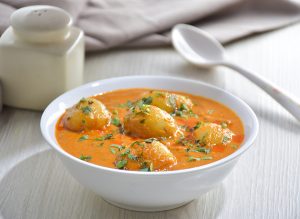 Dum Aloo is one of the most-loved Indian dishes originating from the valleys of Kashmir in the state of Jammu and Kashmir. As its inception marks a location where cold is prevalent throughout the year, we prefer it mostly during winter. It is a traditional dish of Indian cuisine and is enjoyed heartily by people during any meal of the day. Precisely, Dum Aloo is a delicacy that is loved by one and all.
The traditional spices, heartwarming flavors, and aroma of Dum Aloo make it stand out amongst the wide range of dishes that Indian cuisine boasts. With its tender seasoned potatoes and spicy gravy, this dish will surely make one drool as one savors it. Dum Aloo is best enjoyed when you indulge in it with chapatis or naans. Serve it to your friends at a winter gathering, watch as they keep craving more, and relish its delightful flavors.
The vegetarian winter curries mentioned above are delicious, and we at Rajbhog Foods bring them to you in the most authentic form. One spoonful of these dishes will undoubtedly make you return to the flavors of your home kitchen, your roots.
Choose the delicacies you want and head to a nearby grocery store or Rajbhog Café to buy them. In case going out is inconvenient, we also provide seamless nationwide delivery services. So place your orders through our website, and we shall deliver them anywhere across the country.